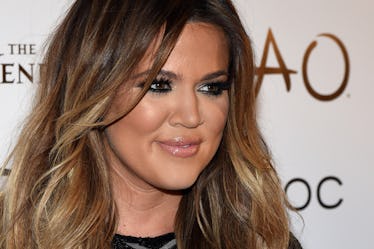 Here's How Khloé Kardashian Is Handling Life With Tristan Thompson After Cheating Reports
Ethan Miller/Getty Images Entertainment/Getty Images
Could a breakup be in the cards for new mom Khloé Kardashian? If new reports are to be believed, then it's definitely possible. Kardashian, who just gave birth to a baby girl, is grappling with allegations that her boyfriend Tristan Thompson cheated on her. So, amidst this unfortunate series of events, will Khloé Kardashian stay with Tristan Thompson?
Sources close to the Kardashian family told Entertainment Tonight that Khloe leaving Tristan isn't likely at this time. "She and Tristan aren't arguing and things have been surprisingly very calm," the source told ET. Elite Daily has reached out to Kardashian's and Thompson's reps for comment on this new report, but have not heard back at the time of this publication.
Thompson found himself in a whirlwind of accusations, backlash, and Internet-trolling when a Tuesday, April 10 report from The Daily Mail alleged that he was cheating on Kardashian with another woman. The reported included footage of Thompson getting cozy with a woman while out at a New York bar and lounge with his Cleveland Cavalier teammates. The incident reportedly happened on April 7, just days before Kardashian was due to give birth. She went into labor a few days later and gave birth to a baby girl on Thursday, April 12. Elite Daily reached out to Kardashian and Thompson's teams for comment on the original cheating report but did not hear back by the time of publication.
Given all that's happened over the past week, it's natural for Kardashian's friends, family, and fans to wonder if she's ready to leave the NBA star. But it seems that Khloe is dedicated to making things work.
On Friday, April 13, a different source told ET that Kardashian has her sights set on creating a strong family unit:
They are both 100 percent committed to moving past this and focusing on the overwhelming joy they have in their life right now with their new daughter. Tristan knows he's got to step up now though and can't screw up.
While Kardashian is based in Los Angeles, Thompson's NBA team is based in Cleveland. Kardashian is said to be making travel plans so she can cart the new baby back and forth between locations.
"She does want to raise her baby in Los Angeles, but for now, will go back and forth," the unnamed source told ET.
There's also the question of what Kardashian's tight-knit family thinks. Normally, the Kardashian and Jenner siblings are mum about issues pertaining to their family.
But ET's source says that Kim and Kourtney Kardashian are not happy with the way things are going for Kardashian:
Kim and Kourtney love Khloe, but when it comes to Tristan, she has not taken their advice and they believe she deserves better. Kim and Kourtney have not been pushing Khloe to leave Tristan at the moment.
While her sisters may not be 100 percent on board with what's happening with Thompson, Kardashian is still receiving moral support from mom Kris Jenner. The two are reportedly bonding during this joyous (yet tumultuous) time and Jenner is doing everything she can to make sure Kardashian has what she needs. A source also told ET that Jenner is keeping Kardashian in good spirits:
Khloe needs her mom more than ever now. Everyone has always seen Khloe as the strongest sister, but in light of the new baby and the timing of Tristan's cheating scandal, having her mom by her side has been so essential in keeping her spirits high.
At the very least, Kardashian has good people with her to ensure she does what's best for her and her baby, both emotionally and psychologically. Whatever's happening in Kardashian's world, it's clear that she's taking great pains to be smart about her next moves.