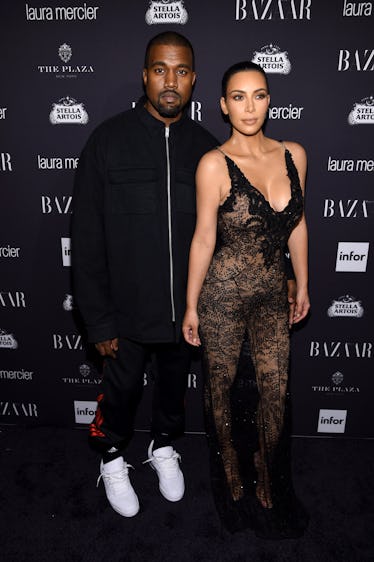 Kim Kardashian Addressed Kanye West's Tweets On 'Ellen' & They Make More Sense Now
Dimitrios Kambouris/Getty Images Entertainment/Getty Images
We're all well-aware of the Twittergate that's happening right now with Kanye West, yes? Good. Fans are getting a little concerned because West's tweets were somewhat all over the place since his return to Twitter. But now, Kim Kardashian addressed Kanye West's tweets on The Ellen DeGeneres Show, and you know what? I can sort of understand where she's coming from. Emphasis on sort of.
According to Kardashian, one tweet in particular about "getting rid of everything" wasn't meant in a literal sense, but it was more about "clarity" and "cleansing."
Here's what went down. Kardashian sat down with Ellen and talked about Kanye's return to Twitter. "I didn't even know he got his Twitter again until I started seeing tweets come in from other people re-tweeting him," Kardashian explained. "And I was like, 'Wait, is this real?' And then at night, he came in and was like, 'Did you see my tweets?', and I was like, 'Yes, I did see your tweets!', and I followed him back."
LOL, let's just pause right there, because "following him back" is a gem of a statement.
She continues to try and explain where Yeezy is coming from, and how it's not that uncommon for him to talk about one's own consciousness.
I mean, I hear him say all of these things in the house, just about... I think what he was saying about, really, the "everything," he was talking about clarity. He always talks about how we should not have our phones first thing in the morning, and in the house when we're with the kids, let's not have our phones. It's our rule that we really try to live by, so I think he was talking about cleansing.
Hm. OK, if you say so, Kim!
For those of you who are like, 'Wait, Kanye's back on Twitter?,' have I got news for you. He's back and he's FULL of dragon energy (more on that later). I'm just going to give you a small highlight reel of the last few days, because honestly, it's a lot.
After leaving Twitter back in May of 2017, West came back to the Twitterverse and had so very, very much to say. Some fans were scratching their heads, though, when West started expressing his support for Donald Trump, tweeting a photo of a signed MAGA hat, and another saying that he doesn't always "have to agree with Trump" but that they are both "dragon energy" and that Trump is his "brother."
Many didn't take West's tweets too well — we saw John Legend's response to Kanye via text, and man, was that intense — but West carried on regardless.
That same day, West was finishing up with his Twitter spree and left his fans with his "last tweet of the day." He wrote,
that's the last tweet of the day. I did that one for my god-brother Puff. Now ima go watch the Cavs.
Of course, many thought that West was shading Khloé Kardashian, since her boyfriend, Cleveland Cavaliers player Tristan Thompson, is currently involved an apparent cheating scandal after he was reportedly caught on video seemingly kissing a woman who was not Khloé Kardashian. (Elite Daily reached out to Kardashian and Thompson's teams but did not hear back by the time of publication.)
And days before this, West confused everyone by saying, "Sometimes you have to get rid of everything":
Which was a little worrisome. But Mrs. West (aka Kim Kardashian) chimed in with a little sarcasm, maybe to prove to fans that he's not being serious about everything:
I guess the moral of the story is that Kanye West's brain is filled with thoughts of existentialism, ideas of moral dilemmas, and a lot of dragon energy that he shares with the president of the United States.
So glad we cleared all of that up.