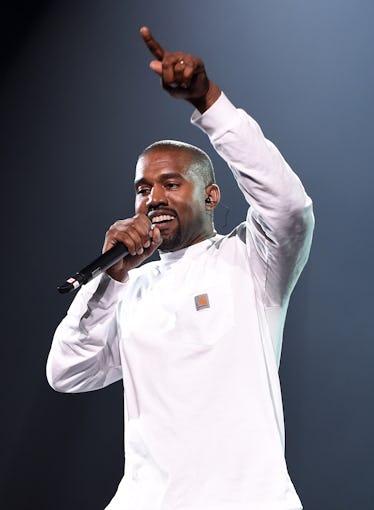 Kanye West Is Back On Twitter & This Is Not A Drill
Dimitrios Kambouris/Getty Images Entertainment/Getty Images
Wow, do I have some big news. It looks like Kanye West is back on Twitter, and no, this is not just a "god dream." Today, we are all truly blessed.
It's 2018 and I don't even know what is happening anymore. After leaving Twitter back in May 2017, West seems to be back on his usual antics and tweeting up a bunch of incomprehensible thoughts. On April 15, West went on a classic Twitter spree after reactivating his account on April 13 to throw some shade at Nike in a tweet he deleted a few minutes after posting.
Apparently, Nike is releasing a new version of their monarch sneaker and West felt that it looked an awful lot like his YEEZY sneaker, according to Buzzfeed. So, West tweeted a picture of the Nike sneaker and captioned it "YEEZY 700 VIBES." He also threw in the facepalm emoji and, not one, but two different cry laughing emojis.
West then disappeared again. Fans thought that maybe he only came back for that one tweet. But, no. West resurfaced again on April 15, and that's when the real fun started.
The first tweet of the storm was a photo of his "favorite Saint Pablo Tee." Which is an homage to his 2016 album The Life of Pablo or song "Saint Pablo," I assume?
Apparently West is really into shirts that honor him because his next tweet was also about some West-centric apparel. Almost immediately after that "Saint Pablo" tweet. West sent out a photo of Die Antwood's Ninja rocking a muscle tank with West's face on it. It was captioned, "My boy Ninja crazy." Also, I'd like to note that he used the same emojis has his first tweet, but in reverse order.
Then, diverting a little from the course, West tweeted a photo of a 2016 screenshot and wrote "caption this." At this point I just realized that all of the photos in his tweets are 2016 screenshots. Do you think he was just saving them for this special occasion?
Next — and by the way, all of the tweets happened within minutes of each other — West got a little sentimental. He posted a picture of himself and Lamar Odom in Madison Square Garden. Odom was in a near-fatal car accident back in 2015, and West reminisced on how he would go to visit Odom in the hospital and play the Life of Pablo Album for him. He wrote,
[M]y favorite moment of walking into MSG to play Saint Pablo, I used to go to the hospital and play Lamar the album when he was learning to walk and talk again[.] Then we walked into the arena together[.]
So up until this next tweet, I was kind of following along. Sure, none of the tweets made much sense in succession, but there was still some structural integrity. A "point" if you will. But these next tweets veer off in a completely different direction, and I've lost my way.
We are now entering real old-school West territory.
Out of nowehere, West decided to mull over consciousness for a while, because why not?
As usual, I can't really help you make any sense of what is going on with West right now. But, I have to say that I have never been so excited to see someone on Twitter. I really hope that this is not a fluke and he decides to come back for good, because it really brings me back to the days of when the only tweet storm you woke up to in the morning was West's.