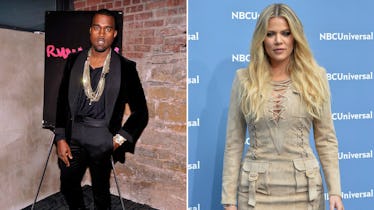 Fans Think Kanye West Dissed Khloé Kardashian With This Tweet & It's A Lot
Joe Corrigan/Slaven Vlasic/Getty Images Entertainment/Getty Images
Kanye West is back on Twitter, and that means that the world might not be prepared for what he has to say. On April 25, Kanye went on a little Twitter spree (what he does best), and had a few ~choice~ words to say. He talked about the concept of love, his support for Donald Trump (???), and the Cleveland Cavaliers. Now, if you recall, one Kardashian in particular is tied to a certain Cleveland Cavaliers player, and things are not looking all that great for the pair. And now, many fans think that Kanye West dissed Khloé Kardashian with his Cavaliers tweet, and honestly, they might not be wrong.
Let's backtrack: Kanye's Twitter was loaded with tons of strange and somewhat unrelated tweets yesterday, including a tweet about how he felt that Obama didn't make any changes to Chicago (Yeezy's hometown) during his eight years of presidency. He also talked about how he was excited for Tim Cook (the CFO of Apple) and Donald Trump to meet, and then screenshotted a photo of Cook and Trump and asked his fans to caption the photo.
Sticking with the Donald Trump theme, Kanye then posted a photo of a signed MAGA hat, which was... a unique choice:
If you're confused about all of this, hold on to your hats (pun totally intended), because it's about to get just a little bit weirder.
After his Twitter spree was drawing to a close, he told his fans that he was finally on his "last tweet of the day." He wrote,
that's the last tweet of the day. I did that one for my god-brother Puff. Now ima go watch the Cavs.
I'm sorry.... but you're going to go watch the Cavs? That team that Tristan Thompson is on? The same Tristan Thompson who's currently knee-deep in an apparent cheating scandal after he was reportedly caught on video seemingly kissing a woman who was not Khloé Kardashian? (Elite Daily reached out to Kardashian and Thompson's teams but did not hear back by the time of publication.)
Uh, yep! Looks like it!
To be fair, West didn't specifically mention Thompson in his tweet, but many fans are putting two and two together, and calling out West for showing what seems like subtle support for Thompson. Some fans took to Twitter to express their thoughts about the whole ordeal:
But others are coming to his defense, because he technically didn't say anything about Tristan Thompson — just about the Cleveland Cavaliers. So hey, maybe the guy just really loves basketball:
And about that last tweet: It looks like the reports of Thompson's cheating on Khloé Kardashian are affecting him in a huge way, because he keeps getting benched from NBA playoff games and was even reportedly booed by fans in previous games.
According to People, Tristan Thompson is still not getting time on the courts, writing that, "Thompson, once again, did not come off the bench, marking his third NBA playoff game with zero minutes. (The power forward was previously benched during the April 18 and April 20 games.)"
It must be tough dealing with that, but hey, at least Kanye West still enjoys watching the Cavs play, amirite?
And it seems like after Yeezy's interesting Twitter rant, Kylie Jenner and Khloé Kardashian have unfollowed Kanye West. While it's not clear whether they hit "unfollow" before or after the tweets about supporting Donald Trump and watching the Cleveland Cavaliers, I can't really say blame them. Elite Daily reached out to Jenner and Kardashian's teams to confirm when they unfollowed the rapper, but did not hear back by the time of publication.
I guess all we can do from here on out is see what Kanye West is going to tweet about next. I don't know about you, but I'm on the edge of my seat. Perhaps he'll say some kind and beautiful things to redeem himself?
LOL, let's be real. This is Kanye West we're talking about.
And Kanye West DGAF.