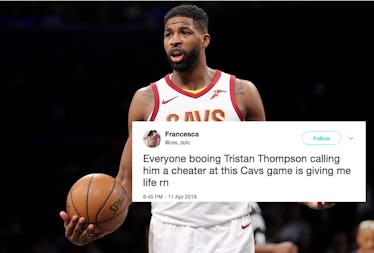 Fans Aren't Forgiving Tristan Thompson At His First Appearance After Cheating Reports
Abbie Parr/Getty Images Sport/Getty Images
For the past day, everyone has been talking about Tristan Thompson's cheating allegations, especially on social media. There's been a nonstop influx of savage tweets, memes and GIFs related to the rumors, and just when I thought I'd seen it all, social media has proven me wrong. The tweets about Tristan Thompson's first appearance since the cheating rumors have me so weak, and I just can't, you guys.
Everybody knows that you don't screw over Khloé Kardashian. Considering all that she's been through, she honestly — truly — deserves her happily-ever-after. That's why her fans were super pissed to find out that Thompson, her boyfriend of nearly two years, had allegedly cheated on her multiple times throughout their relationship. On April 10, The Daily Mail reported that Thompson had been videotaped locking lips with a mystery woman in a New York bar just days before, on April 7. After the report hit the web, TMZ also unleashed footage that allegedly showed the center making out with another woman back in October 2017 — both of which sent social media into a complete frenzy. Elite Daily reached out to both Kardashian and Thompson for comment on the subject, but didn't receive a reply.
But that's not stopping Thompson from carrying on as normal. The Cavs player made his first appearance on April 11 during the Cleveland Cavaliers' game against the New York Knicks, and Twitter users are roasting him even worse than they were before.
According to some Twitter users, fans were booing him — and they were living for it.
Sheesh, guys.
The video that was obtained by The Daily Mail appears to show Thompson getting cozy with an unidentified woman. The woman has her arm around Thompson's shoulder and they appear to share a kiss after a few moments. However, the camera is aimed at such a weird angle that it's hard to tell whether or not the two actually locked lips.
But the club goer who reportedly recorded the footage told The Daily Mail that Thompson and the woman were making out "all night." The insider claimed, "I was there and he was on the table right next to us with a group of friends and some girl who he was obviously making out with all night. They were holding each other and it was so obvious. They were there when I got there and they were part of a big group of friends."
While I wish I could at least say this was a mistake that only happened once, reports say it isn't. After The Daily Mail's report, TMZ also released footage that reportedly showed the baller making out with another woman at a hookah bar back in October 2017. At the time of the alleged encounter, Kardashian was three months pregnant with her and Tristan's child, who's expected to arrive some time this month.
The reality star once referred to Thompson as "the one" and even said that she's never felt "so safe" with anyone, so the rumors obviously have to be a major blow to her. She opened up about their relationship through a post shared to her app on Feb. 13, writing:
My answer for this probably doesn't apply to everybody, but I knew Tristan was the one very quickly — I have never felt so comfortable or so safe with someone. Because of that, I took it very slowly and was cautious about how I went about 'us.' I made sure we had very in-depth conversations. I wanted to make sure that those conversations were backed up by actions.
I'm guessing that Kardashian is heartbroken over this news, but at least Twitter users have her back. At the end of the day, having a support system is always empowering AF.