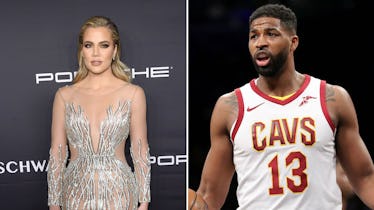 Tristan Thompson May Have Cheated On Khloé Kardashian Months Ago, Report Claims
Jamie McCarthy/Getty Images for Gabrielle's Angel Foundation // Abbie Parr/Getty Images
By now, you've probably heard that Tristan Thompson reportedly cheated on Khloé Kardashian last weekend. It's only been a few hours since the reports surfaced, but social media (and Tristan's @ mentions) are in complete shambles over the rumors. But to make matters even worse, a new report alleges Tristan Thompson cheated on Khloé Kardashian months ago and it's honestly all so sad.
According to TMZ, Thompson was reportedly hanging out with three women at a hookah lounge outside of Washington D.C. on October 7, 2017, and all of it was caught on surveillance video. Initially, the women are reportedly shown laughing, flirting and gushing over the baller, but within seconds, things get much more steamy: in the video, one woman made out with Thompson, tongue and all. Another put his head to her chest and he appears to motorboat her. At the time of the alleged encounter, Kardashian was three months pregnant with her and Thompson's child, who is expected to arrive later this month. Which makes all of these cheating rumors even more heartbreaking.
Elite Daily has reached out to both Kardashian and Thompson's teams for comment on the reports, but did not hear back by the time of publication.
The news comes only hours after other evidence of alleged cheating emerged. Footage obtained by The Daily Mail and published on April 10 reportedly shows Thompson hanging out with another unidentified woman last weekend. The baller was in New York City for his team's (the Cleveland Cavaliers) game against the New York Knicks, and visited a rooftop bar and lounge with his teammates on April 7. There, he was reportedly spotted getting pretty cozy with another woman. In the footage, the two appear to be having an intimate conversation, and even lean in to "share a kiss," but the camera is in such a weird angle that it's honestly hard to tell.
The woman who reportedly filmed the clips told The Daily Mail, "I was there and he was on the table right next to us with a group of friends and some girl who he was obviously making out with all night ... They were holding each other and it was so obvious. They were there when I got there and they were part of a big group of friends."
But around 5 a.m. the next morning, the two had reportedly ditched their friends and headed back to the Four Seasons hotel together, according to TMZ. Thompson was staying there with his teammates while they were in New York for a game.
If the rumors are true, it's gotta be devastating for Kardashian. She's been with Thompson since 2016 and she's been completely head-over-heels for him since. Not to mention, she just uprooted herself from her life in California to relocate to Ohio so she could be closer to Thompson for the last few weeks of her pregnancy. On April 3, she shared a message about her decision to move across the country for her beau on her app, writing,
Throughout my pregnancy, I traveled back and forth between L.A. and Cleveland quite a bit, but after a while, it was a little difficult. It was more tiring and my body got swollen, which never used to happen before pregnancy. I obviously love both cities, but I will say I'm happy to be in Cleveland right now.
She continued,
...I'm with Tristan and I get my home time — cooking, being with my love, and just more of a routine. In L.A., I'm SWAMPED with work. But then again, I love being in L.A. because I get to see my sisters and my mom, and I have my trainer and the people that I've grown up with. So there are perks to both cities for me!
I can't imagine what she's feeling right now, but I'm hoping it's more of the love and support from her friends, family and fans than sadness or anguish over these reports. Love you, Khlo, and sending you tons of positive vibes.