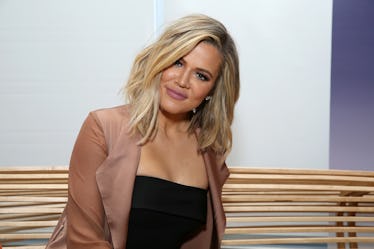 Khloé Kardashian Explained Why She's Giving Birth In Cleveland & It's So Sweet
Cindy Ord/Getty Images Entertainment/Getty Images
The countdown for Kardashian baby watchers just got real. It's no secret that Khloé Kardashian planned on birthing her daughter in Cleveland, Ohio, but the time has honestly flown by so quickly that it still takes a little more time to soak in. Now, she's finally opened up about her decision to relocate across the country — away from her beloved sisters and her treasured Calabasas enclave — and Khloé Kardashian's comments about giving birth in Cleveland are more heartwarming than I could've ever guessed.
On April 3, Kardashian shared a message to her app that expressed just how difficult it was to travel back and forth between Los Angeles, California, and Cleveland, Ohio, which ultimately led to her decision. She explained,
Throughout my pregnancy, I traveled back and forth between L.A. and Cleveland quite a bit, but after a while, it was a little difficult. It was more tiring and my body got swollen, which never used to happen before pregnancy. I obviously love both cities, but I will say I'm happy to be in Cleveland right now.
...I'm with Tristan and I get my home time — cooking, being with my love, and just more of a routine. In L.A., I'm SWAMPED with work. But then again, I love being in L.A. because I get to see my sisters and my mom, and I have my trainer and the people that I've grown up with. So there are perks to both cities for me!
Aw! I truly adore this to pieces because third trimesters are definitely no joke, and I bet it's nice to have that peace and time away from so many distractions. Then again, the move seems like it would be the most logical thing to do considering her baller beau Tristan Thompson spends half of the year in Cleveland anyways when playing for the Cavaliers. Honestly, she might even be used to it by now: According to Entertainment Tonight, the couple has been about the bicoastal life since they started dating in 2016.
They are so goals, you guys. I can't.
Though she's on a completely opposite end of the country than her sisters for the time being, a source told People back in March that the reality star had full intentions of having her family in Cleveland for her daughter's birth. The insider revealed:
Her family is flying to Cleveland when it's baby time. "Khloé especially wants Kris there for the birth. [Khloé] is a bit nervous about the birth, but mostly excited. She is taking it easy in Cleveland, getting everything ready and she can't wait to meet her baby girl.
"Excited" doesn't even describe just how pumped Kardashian has been over her baby girl (as she should be!). On March 4, in a post shared to her app called "Hopes For My Daughter," she shared a quirky list of all the dreams she had for her daughter. Part of the list read:
I think it would be cool for our baby to: speak many languages.
Tristan really wants our baby to be: forever healthy!
The sister that will end up babysitting the most is: Kourt or Kim. They already have so many kids. What's one more? LOL!
If my baby could excel at just one thing, I hope it would be: self-love.
It would be cool if my baby's secret talent was: singing.
My "hope" is that Kardashian finds happiness wherever she is: Los Angeles, Cleveland, or anywhere in between. Well, obviously, she has, but you never know when homesickness may kick in — especially when you're as tight-knit of a family as the Kardashians are.