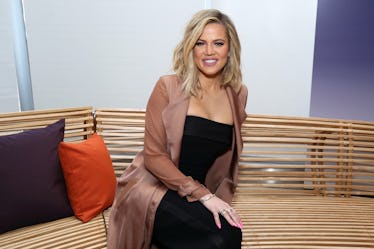 Khloé Kardashian Got Real About What She Hopes For Her Daughter & It's So Emotional
Cindy Ord/Getty Images Entertainment/Getty Images
Holy X chromosome, Batman! The Kardashian/Jenners can't stop creating more little girls! Most recently, the world discovered Khloé Kardashian is having a baby girl with her boyfriend Tristan Thompson, following her sisters Kim Kardashian and Kylie Jenner who welcomed daughters this year, too. KoKo just found out the sex of her baby on the season finale of Keeping Up With The Kardashians, with some extra help from her little sis Kylie. At first, Kardashian was surprised by the news, as she was expecting to have a boy. But now, Khloé Kardashian's "Hopes For My Daughter" post shows just how pumped she is for this sweet pea to enter her life.
As fans know, Kardashian has always been very open and communicative about her relationship with Thompson, plus all the ins and outs of their super unique lives. Since announcing her pregnancy, fans have been eating up the epic insider details about KoKo's baby journey, and are thrilled to hear she is bringing another Kardashian woman into the world! (We truly can't get enough, apparently.) Kardashian's baby will be roughly the same age as her female cousins, Chicago and Stormi, who will be just a few months older than her when she arrives. (Eeeeee!)
After the baby's sex was revealed on Sunday, Mar. 4, Kardashian took to her app and website to create a post specifically dedicated to her daughter. It's titled, "Hopes For My Daughter."
At the top, she explains,
I can't believe I'm having a girl! It was such a special moment and I'm so happy I got to share it with you guys. My team put together this fun fill-in-the-blank game for me about what I hope for my little one when she grows up.
She goes on to answer some sweet questions with hilarious and thoughtful responses. The post goes like this:
I think it would be cool for our baby to: speak many languages.
Tristan really wants our baby to be: forever healthy!
The sister that will end up babysitting the most is: Kourt or Kim. They already have so many kids. What's one more? LOL!
If my baby could excel at just one thing, I hope it would be: self-love.
It would be cool if my baby's secret talent was: singing.
I hope my baby isn't afraid to: make new friends.
The cousins I think my baby will be closest to are: Chicago and Stormi.
The trait I hope my baby inherits from the Kardashian side of the family is: loyalty and family unity!
My baby is going to grow up listening to: Old-school music. We listen to it now. All Anita Baker, Michael McDonald, Marvin Gaye, Patti LaBelle, Michael Jackson... real music!
My child will be 13 when they watch their first episode of KUWTK.
My chid will be 15 (I'm not sure what TT will say) years old when they're allowed to go on their first date.
Let's be real: We all want Khloé and Tristan to be our mom and dad, right?
Now, fans are just waiting for a glimpse of a nursery, a sign of a crib, or a peek at her baby girl's closet. Knowing Klo, she will put everything into being the best mother she could possibly be. She also recently explained her initial surprise on Twitter, writing that her hormones were in "rare form" the day she heard about the sex of her baby. She posted,
No matter what happens along the way, I'm certain Kardashian will keep us posted, because she's just the best like that.
Check out the entire Gen Why series and other videos on Facebook and the Bustle app across Apple TV, Roku, and Amazon Fire TV.