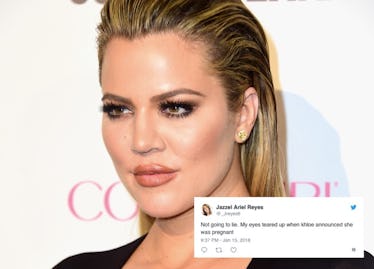 Twitter Cannot Handle The Way Khloé Kardashian Revealed Her Pregnancy On 'KUWTK'
Getty / Twitter
It's totally possible that I've died and am now floating in my own personal heaven, which is basically a world in which Khloé Kardashian finally announced her pregnancy on Keeping Up With The Kardashians. But, I think it actually happened, like, in real life. You guys. IT FREAKING HAPPENED. KOKO IS HAVING A BABY! We saw her tell Kris Jenner with our own eyes! Obviously, everyone is freaking out, and we're LIVING for the tweets about Khloe Kardashian's pregnancy announcement.
She peed on the stick. The stick said she was pregnant. On Jan. 15, the world watched in wonder as Kardashian and her assistant discovered the good news together. BONUS: Kris Jenner happened to be throwing a BBQ in the upcoming days, which proved to serve as the perfect setting for Kardashian and her boyfriend, Tristan Thompson, to reveal the big news.
Obviously, we knew this was coming. We've KNOWN this was coming, even way before Kardashian confirmed her pregnancy on Instagram before Christmas. Kardashian fans have sixth senses that can always tell when a new baby is on its way. In September of 2017, rumors first broke about Thompson and Kardashian's pregnancy. At the time, the media storm was already swirling around Kardashian's little sister, Kylie Jenner, who is also reportedly pregnant. Since then, it's been one big race to the announcement.
On Dec. 20, Kardashian confirmed the rumors by posting a photo of her baby bump and the following message:
My greatest dream realized! We are having a baby! I had been waiting and wondering but God had a plan all along. He knew what He was doing. I simply had to trust in Him and be patient. I still at times can't believe that our love created life! Tristan, thank you for loving me the way that you do! Thank you for treating me like a Queen! Thank you for making me feel beautiful at all stages! Tristan, most of all, Thank you for making me a MOMMY!!! You have made this experience even more magical than I could have envisioned! I will never forget how wonderful you've been to me during this time! Thank you for making me so happy my love! Thank you to everyone for the love and positive vibes! I know we've been keeping this quite but we wanted to enjoy this between our family and close friends as long as we could privately. To enjoy our first precious moments just us Thank you all for understanding. I am so thankful, excited, nervous, eager, overjoyed and scared all in one! But it's the best bundle of feelings I've ever felt in my life!
Fans were pretty pumped for the gram, but it was nothing compared to how they felt after the latest KUWTK episode, which showed the reveal IRL.
They felt overwhelmed.
They felt joyful.
They literally couldn't get over it.
I can't decide whose response I loved the most. Kris Jenner trying to keep her makeup intact from the tears was pretty great. Kim Kardashian walking around just being secretly pissed off she didn't see this coming was also awesome. But, I think I loved Kourt's true, sincere, mega-smile the best, because let's be real: the girl doesn't smile that much.
Kardashian and Thompson delivered the news in true power couple form. Thompson first thanked everyone for coming, and then tossed it to Kardashian for the big reveal. Even though I knew it was coming, I was weirdly nervous AF for the couple.
Mostly, I'm just glad it's all finally out there. Khloé and Tristan, CONGRATULATIONS! SERIOUSLY! LIKE, FOR REAL-FOR REAL!
Check out the entire Gen Why series and other videos on Facebook and the Bustle app across Apple TV, Roku, and Amazon Fire TV.