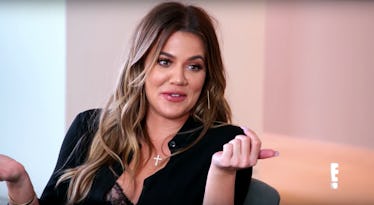 Khloé K Revealed Her Pregnancy On 'KUWTK' & Her Sisters' Reactions Were Everything
E!
Khloé Kardashian announced her pregnancy on Instagram Dec. 20 and I didn't think it could get any better than that. That is, until I saw her spill the news to her family on Keeping Up With The Kardashians during the episode that aired on Jan. 15. It was everything. Since Khloé is everyone's favorite Kardashian, this was an extra special moment for fans. Khloé Kardashian's pregnancy announcement on Keeping Up With The Kardashians was so, so sweet.
In the episode, Kardashian first told her assistant, Alexa, that she was pregnant. She took a pregnancy test and there were two lines "clear as day," meaning she was expecting. "I felt that I was," Kardashian told her assistant.
Later in the episode, Kardashian and her NBA boyfriend, Tristan Thompson, had their families together at Kris Jenner's California house for a barbecue. Thompson addressed them all, saying, "I think it's perfect timing that my family's here and all your family's here to unite as one... and we have an announcement. KoKo, wanna throw the hammer down?" and Kardashian replied, "We're having a baby!" The families obviously lost it, smiling and screaming over the news. They even FaceTimed sister Kylie Jenner, who was mysteriously absent during the announcement (if you haven't heard, it's rumored Jenner is pregnant with her first child).
Of course, Kardashian fans already knew when the episode aired that Khloé was pregnant. The star announced her pregnancy on Instagram in December with a black-and-white photo of her baby bump with Thompson's hands wrapped around her. The starlet wrote in the caption on Dec. 20,
My greatest dream realized! We are having a baby! I had been waiting and wondering but God had a plan all along. He knew what He was doing. I simply had to trust in Him and be patient. I still at times can't believe that our love created life! Tristan, thank you for loving me the way that you do! Thank you for treating me like a Queen! Thank you for making me feel beautiful at all stages! Tristan, most of all, Thank you for making me a MOMMY!!! You have made this experience even more magical than I could have envisioned! I will never forget how wonderful you've been to me during this time! Thank you for making me so happy my love! Thank you to everyone for the love and positive vibes! I know we've been keeping this quite but we wanted to enjoy this between our family and close friends as long as we could privately. To enjoy our first precious moments just us Thank you all for understanding. I am so thankful, excited, nervous, eager, overjoyed and scared all in one! But it's the best bundle of feelings I've ever felt in my life!
Kardashian live-tweeted the episode that showed her announcement, and she couldn't help but remember how nervous she was for the big moment.
Sister Kim Kardashian West echoed her reaction on Twitter, too.
And, apparently, Kourtney Kardashian thought Khloé was gaining weight earlier in the episode. So, her reaction was pretty hilarious...
Kardashian described the moment she found out she was pregnant as "surreal" during an interview on Jimmy Kimmel Live. She said the only people that knew about her pregnancy early on were her, Tristan, and her assistant, who went and bought the pregnancy test for her. She told Jimmy Kimmel on Jan. 4,
Tristan kept saying: 'You're pregnant,' because I was nauseous and not feeling well. But then he had to leave the country and I took a pregnancy test. I was screaming, it was so surreal. I had my trusty assistant [buy the test,] so Alexa my assistant, Tristan and I were the only ones that knew for a few weeks until I was able to tell my family.
In fact, the KUTWK film crew knew about the pregnancy before Kardashian was able to tell her fam — and it's all captured on film. She continued,
Because he [Tristan] was out of the country, we wanted to wait to tell everyone together. It's actually all caught on Keeping Up, which I'm excited about because they [my family] get to see all the stuff I was going through without them knowing.
While that sounds crazy, Kardashian explained that the crew has been in her life for a long time. She has been used to the highs and lows being captured on camera. She explained,
I've known the crew since 2007. We've had pretty much the same crew and they've been involved in so much – the best and worst times of our lives – and they keep quiet.
Since everyone knows about Kardashian's pregnancy news AND fans got to see it unravel on KUWTK — the only thing left to do is wait until the baby arrives, which is reportedly in April. BABY K, PLEASE GET HERE SOON.