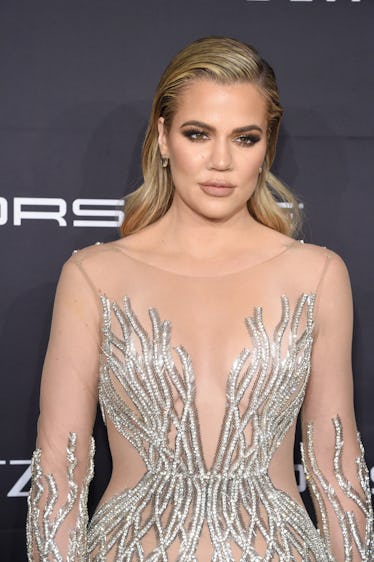 Khloé Kardashian's Latest Instagram Reveals These Exciting Details About Her Baby
Jamie McCarthy/Getty Images Entertainment/Getty Images
Khloé Kardashian basically saved 2017 when she finally confirmed the news that she is indeed pregnant with boyfriend Tristan Thompson's baby. Now that the news is out of the bag, Khloé has been exceptionally open about her pregnancy — including giving fans clues hinting at her due date. KoKo is truly kween over all of us and 2018 is definitely going to be her year. So, when is Khloé Kardashian's due date? The starlet has posted a new photo on Instagram that is leading fans to believe her baby will arrive in April.
On Jan. 2, Khloé shared a gorgeous photo of her growing baby bump. The Keeping Up With The Kardashians star posed in a sheer black dress with spaghetti straps. She paired it with a gorgeous black-and-white faux fur jacket. Of course, Khloé is never without her glam squad. She had unbelievably bouncy curls and glowing makeup. She looked so extra in the best possible way.
The caption of the photo read "Officially 6 months." Thank you, Khloé, for sharing your journey with us. Pregnancy usually lasts 40 weeks. If Khloé is six months, that would make her 24 to 26 weeks pregnant as of Jan. 2. Using simple math, that would mean her due date falls around Apr. 10. Not to brag or anything, but I was also born in April — which basically makes Khloé my mom.
If Khloé's expected baby is indeed born on Apr. 10 (or a few days before or after) that would make her first child an Aries. This reveals a lot about the potential characteristics of baby Kardashian-Thompson.
Aries are notorious for being passionate and strong — think of celebs like Emma Watson, Keira Knightley and Paul Rudd, who are all Aries. Khloé's new bundle of joy could also potentially share the same zodiac sign with his or her aunt, Kourtney Kardashian, as well. Here are a few more personality traits Khloé's baby could have that would be in line with his or her zodiac sign.
Positive
Optimistic
Adventurous
Loyal
Straightforward
Independent
Ambitious
Trustworthy
Not bad for a baby we won't even meet until April, huh? Aries is a fire sign, so that also comes along with impatience, impulsiveness, and moodiness. I'm not an Aries, but I definitely have issues with those things, too.
Khloé is a cancer, which makes her loyal, dependable, sensitive, and caring — all fantastic qualities for a parent.
When Khloé announced her pregnancy via Instagram, I think we all felt excited for the soon-to-be mother. Khloé has talked about wanting a family for a while, and her relationship with Tristan Thompson seems so supportive and healthy.
The heartwarming caption for the post read,
My greatest dream realized! We are having a baby! I had been waiting and wondering but God had a plan all along. He knew what He was doing. I simply had to trust in Him and be patient. I still at times can't believe that our love created life! Tristan, thank you for loving me the way that you do! Thank you for treating me like a Queen! Thank you for making me feel beautiful at all stages! Tristan, most of all, Thank you for making me a MOMMY!!! You have made this experience even more magical than I could have envisioned! I will never forget how wonderful you've been to me during this time! Thank you for making me so happy my love! Thank you to everyone for the love and positive vibes! I know we've been keeping this quite but we wanted to enjoy this between our family and close friends as long as we could privately. To enjoy our first precious moments just us Thank you all for understanding. I am so thankful, excited, nervous, eager, overjoyed and scared all in one! But it's the best bundle of feelings I've ever felt in my life!
I seriously cannot wait for more updates on Khloé's pregnancy. Obviously, she's only obligated to share what feels comfortable to her, but I appreciate her willingness to keep fans in the loop. Congrats to Khloé and Tristan.
Check out the entire Gen Why series and other videos on Facebook and the Bustle app across Apple TV, Roku, and Amazon Fire TV.