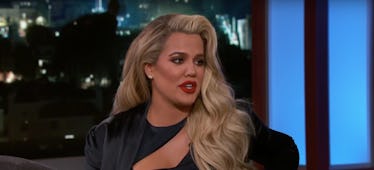 Khloé Kardashian Revealed How She Found Out She Was Pregnant & It's Everything
YouTube
Khloé Kardashian is already making 2018 the best year ever. She ended 2017 by announcing her pregnancy, and has started the year off right by finally showing off that baby bump and going on talk shows to talk about being pregnant with her first child. Life. Is. Complete. Can we all just give Khloé a big hug right now for blessing us with this news? And for actually talking about it? So when she went on Jimmy Kimmel Live on Jan. 4, we were so ready to hear more baby news. And what we got was so much better than anyone could have ever imagined. While chatting with Kimmel, Kardashian talked about when she first realized she was pregnant: Khloé Kardashian found out she was pregnant because Tristan Thompson called it and I'm sorry, but this is everything.
First off, I am loving how open she is to sharing these details with us. Considering we are often left with so many questions surrounding possible pregnancies when it comes to the Kardashians (looking at you, Kylie), it's refreshing to see Kardashian go on live television to chat about the details of her pregnancy.
On Jimmy Kimmel Live, Kardashian discusses the moment she found out that she was pregnant. She said,
Tristan kept saying: 'You're pregnant,' because I was nauseous and not feeling well. But then he had to leave the country and I took a pregnancy test. I was screaming, it was so surreal. I had my trusty assistant [buy the test,] so Alexa my assistant, Tristan and I were the only ones that knew for a few weeks until I was able to tell my family.
ARE YOU HEARING THIS, WORLD?!
Then she revealed even more information: that the Keeping Up With The Kardashians crew knew of her pregnancy before her own family did – but that was only so that they could be in on the moment when Kardashian finally told her family the happy news. She said,
Because he [Tristan] was out of the country, we wanted to wait to tell everyone together. It's actually all caught on Keeping Up, which I'm excited about because they [my family] get to see all the stuff I was going through without them knowing.
Kimmel then jokes, saying, "You're saying there were cameras present in your personal life to capture this?," to which Kardashian replies sarcastically, "Isn't that crazy? Isn't that a crazy concept?"
Y'all got jokes!
But Kardashian gives a shoutout to the KUWTK crew, basically thanking them for zipping their lips when it came to the news. She said,
I've known the crew since 2007. We've had pretty much the same crew and they've been involved in so much – the best and worst times of our lives – and they keep quiet.
Honestly, props to them, because if most people found out that Khloé Kardashian was pregnant and were told to keep quiet, it would be all over social media in, like, three minutes.
Kardashian goes on to talk about what she absolutely needs in her nursery, which sister gives the worst baby advice, and who she wants in the delivery room with her:
And, now that we know Khloé Kardashian is six months along in her pregnancy, we are seriously getting pumped for what new details the next few months will be bringing us.
We've already been blessed with the baby name details when Kardashian went on The Ellen DeGeneres Show and revealed that, while they don't yet know the sex, they already have possible names picked out. She said,
I think if it's a boy I'll go with Tristan Junior. For a girl I don't even know where to begin. I think I'll go with a K or a T name though.
If it's a boy, Tristan Junior is beyond adorable. And let's be real: No matter what K or T name she might go with, it will be absolute perfection. Trust.
Khloé, you're a glowing goddess and we just want to say that 2018 is clearly your year, and because of you, you're totally making it ours as well.