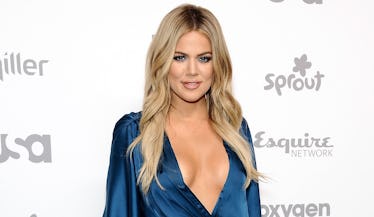 Khloé Kardashian Revealed Details About Her Baby's Name On 'Ellen' & We're So Excited
Whenever a Kardashian has a baby, they usually keep the name a secret until they're ready to reveal it. But not Khloé Kardashian! The reality star did an interview with Ellen DeGeneres to talk about the upcoming season of Revenge Body, but while she was there, she revealed what she and boyfriend Tristan Thompson are thinking of naming their first child together. Khloé Kardashian's baby name details will melt your heart, seeing as all of her and Tristan's ideas honor their family in some way.
While she told DeGeneres that she and Thompson haven't found out the sex of the baby yet, she says they want to. Kardashian said, "Yeah. There's too many surprises in this whole thing that I'm definitely going to know." Then she talked about the baby name possibilities, telling DeGeneres, "I think if it's a boy I'll go with Tristan Junior. For a girl I don't even know where to begin. I think I'll go with a K or a T name though." Tristan Jr.?! A K or a T name?! Be still, my beating heart! Hey Khloé, might I suggest the name Kelli? It's pretty beautiful and majestic, in my opinion. Kardashian also revealed why she waited so long to confirm her pregnancy rumors. She told DeGeneres, "I just wanted to do something myself and write something that was heartfelt from me."
She continued, "I've wanted to have a baby for so long and it's just perfect timing. God always has his plan and I just wanted to do it on my time and when I felt comfortable to do so."
Fans are so excited to hear about Kardashian's baby name ideas.
She wrote,
My greatest dream realized! We are having a baby! I had been waiting and wondering but God had a plan all along. He knew what He was doing. I simply had to trust in Him and be patient. I still at times can't believe that our love created life! Tristan, thank you for loving me the way that you do! Thank you for treating me like a Queen! Thank you for making me feel beautiful at all stages! Tristan, most of all, Thank you for making me a MOMMY!!! You have made this experience even more magical than I could have envisioned! I will never forget how wonderful you've been to me during this time! Thank you for making me so happy my love! Thank you to everyone for the love and positive vibes! I know we've been keeping this quite but we wanted to enjoy this between our family and close friends as long as we could privately. To enjoy our first precious moments just us Thank you all for understanding. I am so thankful, excited, nervous, eager, overjoyed and scared all in one! But it's the best bundle of feelings I've ever felt in my life!
Now that Kardashian and Thompson are about to be parents together, is marriage in the cards? DeGeneres asked the same question. Kardashian answered, "Tristan has been super protective during my pregnancy. He's really a dream and I feel lucky. But I'm not in rush for any of that [marriage.] As you know, I have rushed quite a few things before. We talk about it for sure, but we're happy where we are." That "rush" reference she made was to her first marriage to Lamar Odom. They got married after just one month of knowing each other. The wedding was aired on Keeping Up With The Kardashians in 2009, just nine days after Odom proposed.
Kardashian was hella open in this interview about her own life, but one thing she wasn't budging on was the details of Kylie Jenner's reported pregnancy. When DeGeneres asked if Jenner is actually pregnant and why she wasn't in any of the Kardashian Christmas card photos, Kardashian laughed and responded, "I don't know. Maybe you should ask her. Why don't you get Kylie on the show?!"
In a tweet replying to a fan's question on Jan. 3, Kardashian confirmed the sex of her and Thompson's baby will be revealed on an episode of Keeping Up With The Kardashians.
The fan asked if they would be doing a sex reveal on the show this Sunday, Jan. 7. Kardashian said, "We will be revealing on the show but not this week." Wooooooo, get ready, fam!