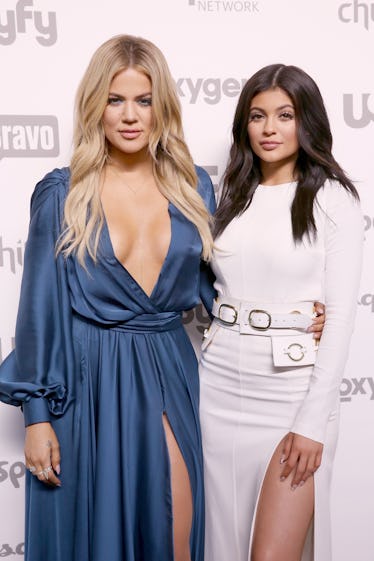 Kylie Jenner Was In Charge Of Khloé K's Gender Reveal On 'KUWTK' & It Was So Sweet
Robin Marchant/Getty Images Entertainment/Getty Images
Do you ever get that feeling where it's like you're more invested in Khloé Kardashian's baby's life than your own? Me too. In the season finale of Keeping Up With The Kardashians, we finally learned the sex of KoKo's baby. Kylie Jenner made a cake for Khloé Kardashian to let her know she's having a baby girl, and it's honesty so cute.
As you guys know, Kardashian managed to keep her pregnancy under wraps for a pretty long time. The news first dropped back in September of 2017, when we also heard rumors about her sister Kylie Jenner's pregnancy. For a long time, fans were analyzing the sh*t out of Kardashian's Instagram photos. We were busy as hell scanning for a baby bump, or a bottle in the background, or literally ANYTHING that might confirm she was, in fact, pregnant.
And, then, one glorious day just before Christmas, it happened. Kardashian announced her pregnancy with boyfriend Tristan Thompson with a gorgeous picture and lovely caption on Instagram. She wrote,
My greatest dream realized! We are having a baby! I had been waiting and wondering but God had a plan all along. He knew what He was doing. I simply had to trust in Him and be patient. I still at times can't believe that our love created life! Tristan, thank you for loving me the way that you do! Thank you for treating me like a Queen! Thank you for making me feel beautiful at all stages! Tristan, most of all, Thank you for making me a MOMMY!!! You have made this experience even more magical than I could have envisioned! I will never forget how wonderful you've been to me during this time! Thank you for making me so happy my love! Thank you to everyone for the love and positive vibes! I know we've been keeping this quite but we wanted to enjoy this between our family and close friends as long as we could privately. To enjoy our first precious moments just us Thank you all for understanding. I am so thankful, excited, nervous, eager, overjoyed and scared all in one! But it's the best bundle of feelings I've ever felt in my life!
You would think the announcement would calm the masses, but instead, it just created more hysteria.
What is the baby's sex? What is she going to name the baby? When is the baby due? Will the baby like us?
On March 4, 2018, the big reveal went down on national television, and it was soooo Kardashian of them. Earlier in the night, KoKo shared a photo of "CONGRATULATIONS IT'S A..." cake given to her by Kylie Jenner.
In the episode, KoKo explained the doctor would tell Kylie Jenner the sex of her baby, and then Kylie would call KoKo to let her know the news. Kylie Jenner told KoKo that she was having a girl, and at first, KoKo didn't believe her. Soon enough, she realized her sister wasn't joking. That's right, Khloé is really having a girl!
As for the baby's name, we know Kardashian is leaning toward something that begins with a "K" like "Khloé" or a "T" like "Tristan." In an interview with Ellen DeGeneres, Kardashian explained,
I think if it's a boy I'll go with Tristan Junior. For a girl I don't even know where to begin. I think I'll go with a K or a T name though.
I'm sorry... did she just straight up tell us what she is going to name the baby?! I'M SO EXCITED.
This will be the third Kardashian-Jenner baby to enter the world in 2018. Kim Kardashian and Kanye West welcomed their third child, a daughter named Chi, in January. Kylie Jenner welcomed her first child with boyfriend Travis Scott, a daughter named Stormi, in February.
Now, we just need Khloé to have this baby so we can get back to our normal lives.
Just kidding. Obsessing over the Kardashians IS our normal life! HAHAHA.
Check out the entire Gen Why series and other videos on Facebook and the Bustle app across Apple TV, Roku, and Amazon Fire TV.