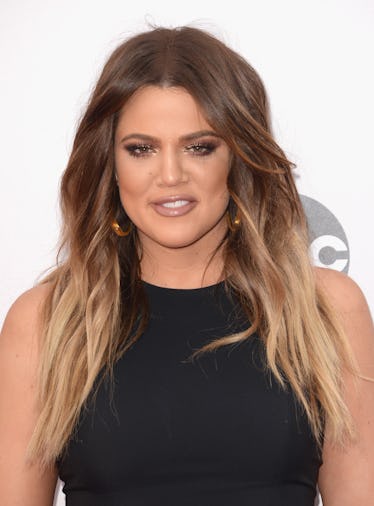 Khloé Kardashian May Have Given Us Proof She's Pregnant In This Snapchat Video
Jason Merritt/TERM/Getty Images Entertainment/Getty Images
Good morning and welcome to another round of Is Khloé Kardashian Pregnant? We Think So! On today's episode, we're peeking into Kardashian's social media accounts to spy on her personal belongings for clues about her reported pregnancy. And low and behold, we have one! Khloé Kardashian's pregnancy pillow on Snapchat is literally a shining red arrow pointing to a baby. KoKo, give it up already. Cat's outta the bag. Baby's outta the womb, or something.
UPDATE: On Dec. 20, Khloe Kardashian confirmed that she is expecting a baby with Tristan Thompson in an Instagram post.
EARLIER: As we all know, Kardashian is reportedly expecting her first child with her boyfriend, Tristan Thompson. Back in September 2017, multiple sources told People magazine Kardashian is due sometime in February, right around the same time her baby sis Kylie Jenner is also reportedly due with her first kid. It's obviously been DRAMA trying to confirm these pregnancies, but it feels like we are getting closer and closer to the truth each day.
Here's the latest: On Dec. 18, Kardashian took to Snapchat to promote her sunglasses collaboration with DIFF Eyewear. If you've been following the reality TV star at all, you know that these sunglasses are her main "thing" right now. It's also a safe way for her to post content on apps like Instagram and Snapchat without having to show her body from the waist down. Well, it was a safe thing, until she realized just how reflective those sunnies can be!
In her most recent post, Kardashian is showing off a pair of frames when something suspicious shows up in the reflection. Obsessed fans caught a glimpse of what appears to be a pregnancy pillow.
What a world.
See that wavy white blob? People think that's a pregnancy pillow.
I have to admit, at first, I was skeptical. But, after doing a quick Google search, I realized that damn, it does look pretty similar.
I found this one on Amazon, and it seems to be an almost identical shape to the reflection in Kardashian's sunglasses.
To make things even MORE suspicious, Kardashian reportedly removed the Snapchat shortly after posting it.
Oops.
Still, something tells me Kardashian knows we all know she's got a bun in the oven. On Keeping Up With The Kardashians' mid-season finale, fans were left with a major cliffhanger. At the very end of the episode, during the upcoming season's preview, we see Kardashian delivering some sort of big news at a family party. There's a lot of gasping and crying, and Kim ecstatically asks her mom, "Did you not know?" Kris Jenner emphatically responds, "No!"
Take a look and you tell me.
I mean, if it walks like a pregnancy announcement, talks like a pregnancy announcement, and makes Kourtney say "Oh my Goddd!" like a pregnancy announcement, it HAS to be a pregnancy announcement... right?
As for Kardashian's younger sis Kylie, homegirl is literally nowhere to be found this KUWTK season. The best we got out of her was one family dinner during the holiday episode when she said she was most thankful for her mom, Kris. That was also the same episode we got this telling quote from Kris Jenner,
I used to pray that one of you guys would have a baby, and now it's like a faucet that we turned on that won't turn off.
COME ON, GUYS. WHO ARE YOU FOOLING?
Fans are busy waiting for the delivery of Kim's confirmed third baby with husband Kanye West, who will be arriving via surrogate sometime really soon. In the meantime, we're just casually creeping on Khloé's sunglasses' reflection.
Can you guys, like, hurry up with these babies, please?
Check out the entire Gen Why series and other videos on Facebook and the Bustle app across Apple TV, Roku, and Amazon Fire TV.