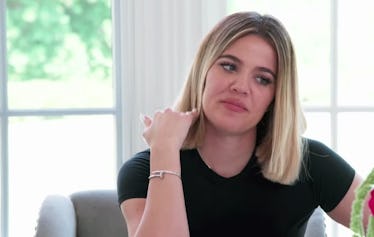 This 'KUWTK' Promo Hints That Khloé K Is Actually Pregnant & Twitter Is Losing It
Hot take: The Kardashians are trying to kill us. We have been doing our damn best to keep up with this season of Keeping Up With The Kardashians, but my goodness, they are making it difficult. The series just had its mid-season finale, and the preview of the upcoming episodes are intense. One thing is for sure: KoKo definitely looks like she's about to announce something big. Tweets about the KUWTK finale will totally convince you Khloé Kardashian is pregnant.
UPDATE: On Dec. 20, Khloe Kardashian confirmed that she is expecting a baby with Tristan Thompson in an Instagram post.
EARLIER: This season, we've already touched on so many touchy subjects, like Rob Kardashian's custody battle with Blac Chyna and the endless partying ways of Scott Disick. We've also seen huge triumphs like Kim's KKW Beauty release party and the ongoing love story between Khloé and her boyfriend, Tristan Thompson. Plus, there's that whole Kourtney and Younes Bendjima plot line that's been keeping me going. (I'm lonely, you guys.)
WHAT ELSE COULD POSSIBLY HAPPEN NEXT?
Well, the baby reveals. Obviously.
As you guys know, Khloé and Kylie are reportedly pregnant with their first babies, and we've been dying for the final confirmation in Season 14 of KUWTK. We thought we might have received it during the holiday episode when Kris Jenner so very candidly spoke the words,
I used to pray that one of you guys would have a baby, and now it's like a faucet that we turned on that won't turn off.
Ooo, it gives me chills to think about it.
At that point in the series, Kim had already announced her third baby with Kanye West was arriving via surrogate. I suppose it's possible Kris was just referring to that.
Fans were expecting Kimye's third bundle of joy to arrive in early 2018, but one source shattered that theory by telling Us Weekly "Kim's surrogate is due before Christmas."
Mind. Blown. And Merry Christmas to us!
While their baby girl has yet to make her debut and Christmas is just two weeks away, we wouldn't put it past this couple's offspring to make a big entrance, probably on Christmas Eve or Christmas morning.
And the evidence to suggest this family is growing times three is staggering. I mean, look at this KUWTK promo:
That sure looks like a pregnancy announcement to me, and Twitter agrees.
Let's be real: No one has confirmed or denied sh*t about Khloé and Kylie, which is basically the same thing as confirming.
As far as Kylie's reported pregnancy goes, fans expect her and Khloé to have very similar due dates. A source told People magazine in September that both sisters were roughly four months along, which would put their due dates sometime in February. At the time, the source added,
This isn't something they were in a rush to announce to the whole world, and it's only been in just the past week or so that they've felt comfortable telling most of their inner circle. Things were complicated a bit by Kylie's announcement as they don't want to be seen as intruding on that moment for her but it is now reaching a point where Khloé doesn't want to be openly lying to people, and just staying quiet isn't going to work anymore.
I know. Hold onto your emoji butts, people.
If this season finale has taught us anything, it's that we can never, ever actually keep up with this family, and all we can really do is tune in.
Catch all new episodes of Keeping Up With The Kardashians beginning at 9 p.m., Sunday, Jan. 7 on E!
Check out the entire Gen Why series and other videos on Facebook and the Bustle app across Apple TV, Roku, and Amazon Fire TV.