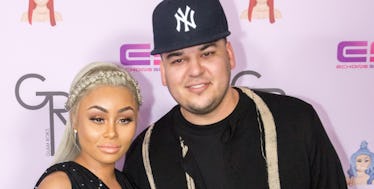 Rob Kardashian And Blac Chyna Will Reportedly Share Equal Custody Over Dream
Greg Doherty/Getty Images
The relationship turmoil may be in full swing, but when it comes to parenting, Rob Kardashian and Black Chyna are a no-drama-mama-n-papa.
The feuding pair are reportedly continuing to work under an "unwritten arrangement" where they share 50-50 custody of their baby, Dream, TMZ reported on Monday evening. Anonymous sources told the website that the arrangement has been "loose by consent," and each parent is entitled to physical custody half the time. Recently, Kardashian has had the 8-month-old four days a week, and Chyna three days.
The two have reportedly managed to keep their daughter and their relationship problems separate, and have "no problem" with co-parenting.
As such, TMZ reports that they have no plans for a formal custody order, although they will (wisely) put their private agreement into writing. Elite Daily has reached out to both Kardashian and Chyna for comment, but had not received a reply at the time of publication.
With Chyna's new restraining order against Kardashian which was granted Monday, baby hand-offs are likely to be a bit more complicated. But the team of nannies who reportedly handle drop-offs between the pair, according to People, should hopefully streamline things.
Even for the least acrimonious of exes, things can get rough when there's a custody battle involved.
So it's admirable if the two exes can agree to keep their daughter out of it.
For awhile, it looked like that wouldn't be the case. In Kardashian's now-infamous July 5 social media rampage, he used Dream as leverage against Chyna. In a now-deleted Instagram post, Kardashian wrote,
U will never see Dream again unless u stop the alcohol and drugs and cocaine and X and E. lol. That's called a party pack…when was the last time u realized your daughter been with me instead of that crazy house that u bring men in and out.
But on June 7, little Dream was back with mom, according to a series of Snapchats Chyna posted. 
When parents fight, it's often kids who suffer, so it's good to see that Chyna and Kardashian are doing what they can to shield their daughter. Hopefully some of that civility will rub off on the rest of their fight.