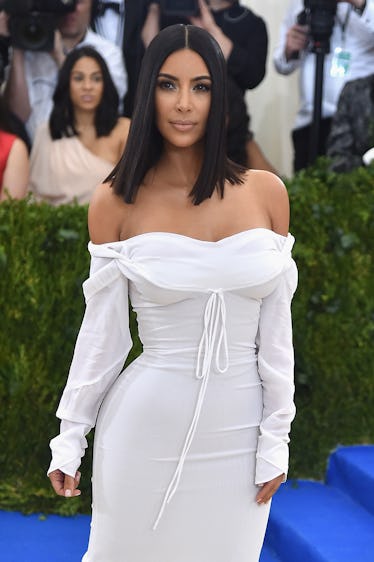 Kim Kardashian & Kanye West Welcomed Their Third Child & We Can't Even
Theo Wargo/Getty Images Entertainment/Getty Images
STOP WHAT YOU'RE DOING. CALL IN SICK. SIT THE F DOWN. HANG ON TO YOUR BUTTS. Kim Kardashian's third baby just arrived and it's officially a national holiday. The news came Tuesday morning, Jan. 16, via a report from TMZ, and we couldn't be more thrilled. Welcome Baby Kardashian-West!
After the report from TMZ was released, Kardashian said in a statement, "January 15, 2018, 12:47 a.m., 7 lbs 6 oz. Kanye and I are happy to announce the arrival of our healthy, beautiful baby girl. We are incredibly grateful to our surrogate who made our dreams come true with the greatest gift one could give and to our wonderful doctors and nurses for their special care. North and Saint are especially thrilled to welcome their baby sister. Love, Kim Kardashian West."
Traditionally, pregnancy has not been an easy task for Kim, making this news extra exciting. Kardashian suffered difficult medical issues and struggled emotionally and physically while carrying her first two babies, North and Saint. For her third bundle of joy, she and husband Kanye West were advised to go a different route for health purposes, and they did exactly that. Baby West arrived via surrogate, and the world is so happy she's finally here.
I guess if we're using logic, we must have first heard about Kardashian's third baby nine months ago, but call me Kris Jenner if it hasn't felt like literal years in the making. Kim was incredibly open about the decision to use a surrogate on Keeping Up With The Kardashians, and officially confirmed the good news in a promo video for Season 14.
Since then, the family's done a wonderful job protecting the identity of the surrogate mother from the public, and has been low-key preparing for baby number three. In November, Kardashian threw herself a truly epic baby shower, mostly to help her two children get excited for their incoming sibling.
Kardashian admitted to Ellen DeGeneres on her show,
I don't know if my son gets it yet. Especially because I don't have the belly it is a different experience... so I said to my sisters, 'Would I be really creepy if I just had someone dress up like a big stork and drop the baby off at the front door?' And just have to explain that?
She added,
We had a baby shower over the weekend. I thought, 'I really do want to have a baby shower because I want her to feel that something's coming and for her to really understand it.'
Kim also spoke candidly about the difficulties of going through with a surrogate. While promoting her new KKW fragrances, Kardashian explained to Entertainment Tonight that it really came down to a control factor. She said,
You know, it is really different. Anyone that says or thinks it is just the easy way out is just completely wrong. I think it is so much harder to go through it this way, because you are not really in control.
... Obviously you pick someone that you completely trust and that you have a good bond and relationship with, but it is still … knowing that I was able to carry my first two babies and not my baby now, it's hard for me. It's definitely a harder experience than I anticipated just in the control area.
She added that despite hating being pregnant herself, she still would have preferred to carry her own child if she could.
I hated being pregnant and I never thought I'd ever ... I thought this was going to be so easy, but you know, even in how much I hated it, if I could do it myself I would have preferred that. So, that inner struggle is kind of hard, but I am just rolling with it and it is what it is.
And what it is is a beautiful baby girl!
Fans are waiting to hear from the rest of the Kardashian clan, and are paying especially close attention to sisters Khloé and Kylie, who are reportedly pregnant with their first babies.
More than anything, we are just so happy to hear the family is happy and healthy. Congratulations, everyone! We did it!
Check out the entire GenWhy series and other videos on Facebook and the Bustle app across Apple TV, Roku, and Amazon Fire TV.