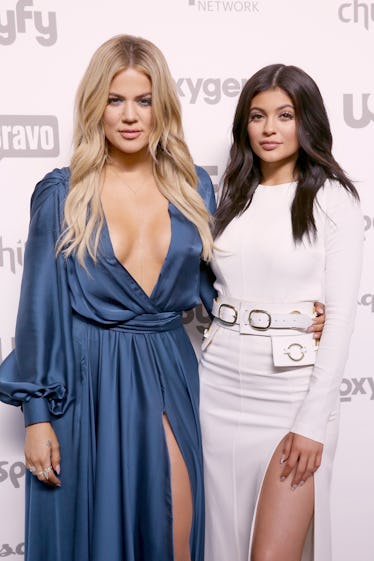 Kylie Jenner & Khloé K Are So Excited For Their Pregnancies In Adorable New 'KUWTK' Clip
Robin Marchant/Getty Images Entertainment/Getty Images
You know it's going to be a good day when you get to to see a pregnant Kylie and a pregnant Khloé together. And today, we were gifted just that when a preview clip from the Keeping Up With The Kardashians season finale showed Kylie Jenner and Khloé Kardashian's baby bumps. You guys, it's sort of — dare I say it? — iconic.
There. I said it and I'm sticking by it, and you can't judge me.
The clip shows Kylie and Khloé displaying their baby bumps together, when they encounter a woman who says, "Oh my God!," when she sees the sisters, and lady, I'd probably say the same thing.
We hear Khloé say, "We're three months apart. Me and her," and the woman responds, "Oh really, how excited are you guys?" Of course, they both say yes, but then Khloé says, "We both have never been through this before!" The look she gives Kylie just makes me want to hug them both. Can you imagine you and your sibling were both going through a pregnancy together? Kind of amazing that Khloé and Kylie got to experience that, if I'm being honest.
Check out the clip below, which is guaranteed to make you squeal with delight:
And, in true Kardashian fan form, many took to Twitter to express just how excited they are to watch this scene play out in full on the finale:
It's happening, people! We're getting to see both of them looking pregnant and adorable on KUWTK on Sunday, March 4, and I am AMPED.
Of course, by this point we already know that Kylie had her baby, considering she announced on Instagram on Feb. 4 that she and boyfriend Travis Scott welcomed a daughter into the world on Feb. 1. Part of her caption explained that she was sorry for keeping fans so out of the loop throughout her pregnancy, but felt this was the best way for her and her daughter. It read:
I'm sorry for keeping you in the dark through all the assumptions. I understand you're used to me bringing you along on all my journeys. My pregnancy was one I chose not to do in front of the world. I knew for myself I needed to prepare for this role of a lifetime in the most positive, stress free, and healthy way I knew how. There was no gotcha moment, no big reveal I had planned. I knew my baby would feel every stress and every emotion so I chose to do it this way for my little life and our happiness.
We now know that her daughter, named Stormi, is already a record-breaking Instagram star and is also very, very adorable:
And, while we don't exactly know when Khloé is set to give birth, we do know a few details surrounding her pregnancy, because she decided not to keep things shrouded in secrecy. (THANK YOU SO MUCH, KHLOÉ. YOU HAVE NO IDEA HOW THIS MEANS TO US.)
On Dec. 20, Khloé posted a photo of her baby bump on Instagram, announcing that she was expecting a child with boyfriend Tristan Thompson. Her caption read,
My greatest dream realized! We are having a baby! I had been waiting and wondering but God had a plan all along. He knew what He was doing. I simply had to trust in Him and be patient. I still at times can't believe that our love created life! Tristan, thank you for loving me the way that you do! Thank you for treating me like a Queen! Thank you for making me feel beautiful at all stages! Tristan, most of all, Thank you for making me a MOMMY!!! You have made this experience even more magical than I could have envisioned! I will never forget how wonderful you've been to me during this time! Thank you for making me so happy my love!
We don't yet know whether or not she's having a boy or a girl, but for now, we're just enjoying the little pieces of gold Khloé's giving us on her Insta-feed:
Annnnnd I'm crying.
Make sure you tune into E!'s KUWTK season finale on Sunday, March 4, at 9 p.m. EST to see Khloé and Kylie's glorious baby bumps. You know you wanna.