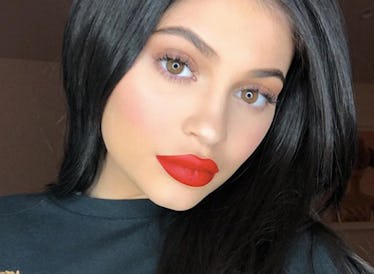 Kylie Jenner's Baby Announcement Has Fans Asking This One Question
Instagram/Kylie Jenner
Kylie Jenner is officially a mom, everyone! What, you're confused? Oh, right. Well, in case you missed it, there were reports back in September that 20-year-old Kylie Jenner was expecting her first child with rapper boyfriend, Travis Scott. What ensued after that reports was months, and I mean LITERAL months, of fans wondering if the report was true. Fans dissected clue after clue trying to get a definite answer. Of course Jenner would confirm it sooner or later, right? Well, the answer was definitely later. Our confirmation is here – Kylie Jenner announced on Instagram that she gave birth to a baby girl on Feb, 1. With such little information given to fans on whether or not Jenner was even expecting, will Kylie Jenner giving birth be featured on Keeping Up With The Kardashians?
The Kardashians and Jenners are no strangers to letting those KUWTK cameras into every facet of their lives. We've seen some intense family moments on screen, like Kourtney Kardashian giving birth to Mason and Reign, Kim Kardashian announcing her three pregnancies, and Khloé Kardashian letting the cameras follow her through her nine-day engagement to Lamar Odom and the wedding that followed. So, will Jenner do the same?
While we're not 100 percent certain if the KUWTK cameras were rolling in the delivery room, I think it's pretty safe to say we won't see Jenner giving birth on KUWTK. BUT, Jenner's birth announcement did include a video where her BFF Jordyn Woods showed the delivery room when Jenner welcomed her daughter. We see Travis Scott, Khloé Kardashian, Kris Jenner, and Kendall Jenner on FaceTime while Jenner is in labor.
Fans of the makeup mogul know that as reports of her pregnancy fueled up, her time in the spotlight fizzled out. It's apparent that Jenner wanted this part of her life to be very intimate.
And, let's be real. Jenner never even confirmed the pregnancy herself before giving birth. It wasn't anyone else's information to know. A few months ago, a source echoed this sentiment to People.
Kylie wants to disappear and be out of the spotlight and focus on her health and happiness.
The source continued, saying,
Kylie is only trusting her closest friends and her sisters right now. She wants to reveal things on her own terms but she's, of course, having fun teasing everyone. She knows all the attention is on her and her baby bump, but she won't share until she wants to.
Even in watching Keeping Up With The Kardashians, fans haven't seen much of Kylie throughout Season 14. We do see her FaceTime Khloé Kardashian in a teaser clip, but it's only through the phone. This isn't lost on Jenner's sisters, either. Khloé was quick to point out in an episode that Kylie is "the new Rob," staying out of the spotlight and not wanting to be in front of the cameras.
So, don't bank on seeing Jenner and her newborn baby on Season 15 of the show. We'd be thrilled if she let fans in on this part of her life, but it's her decision on whether she wants to be open to the public in that way, and we as fans have to respect that.
Khloé Kardashian, though, may be more open about her pregnancy on the show. Since confirming her pregnancy in December 2017, fans have gotten so much intel on the mom-to-be and her impending little one. For example, we know Kardashian will give birth in Cleveland (where she's living with her NBA boyfriend, Tristan Thompson), she'll probably give the baby a name starting with "K" or "T," and she's a little more than six months along.
Kardashian wrote in her post:
My greatest dream realized! We are having a baby! I had been waiting and wondering but God had a plan all along. He knew what He was doing. I simply had to trust in Him and be patient. I still at times can't believe that our love created life! Tristan, thank you for loving me the way that you do! Thank you for treating me like a Queen! Thank you for making me feel beautiful at all stages! Tristan, most of all, Thank you for making me a MOMMY!!! You have made this experience even more magical than I could have envisioned! I will never forget how wonderful you've been to me during this time! Thank you for making me so happy my love! Thank you to everyone for the love and positive vibes! I know we've been keeping this quiet but we wanted to enjoy this between our family and close friends as long as we could privately. To enjoy our first precious moments just us ❤️ Thank you all for understanding. I am so thankful, excited, nervous, eager, overjoyed and scared all in one! But it's the best bundle of feelings I've ever felt in my life! ❤️❤️❤️
It's good to know the two new moms have each other while embracing their first time mommyhood! And while we probably won't see Kylie giving birth on KUWTK, we can bank on the fact that we'll probably see baby Kardashian-Thompson's debut there.