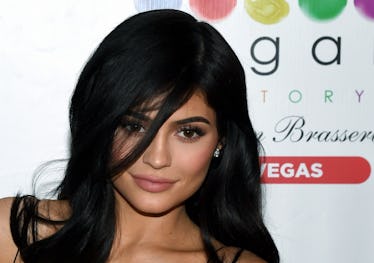 These Photos Of Kylie Jenner Pregnant Prove That Fans Were Right All Along
Ethan Miller/Getty Images Entertainment/Getty Images
The day we've been waiting for has finally arrived. Kylie Jenner is officially the mother to a baby girl. To make up for the past nine months of complete darkness, here are photos of Kylie Jenner pregnant just so we can all bask in our "we told you so" glory.
For months fans have been speculating about Jenner's possible pregnancy, despite her radio silence surrounding the subject. Finally, Jenner took us out of our misery and on Feb. 4 announced via Instagram that she had given birth to a baby girl on Feb. 1 with boyfriend Travis Scott.
She wrote,
I'm sorry for keeping you in the dark through all the assumptions. I understand you're used to me bringing you along on all my journeys. My pregnancy was one I chose not to do in front of the world. I knew for myself I needed to prepare for this role of a lifetime in the most positive, stress free, and healthy way I knew how. There was no gotcha moment, no big paid reveal I had planned. I knew my baby would feel every stress and every emotion so I chose to do it this way for my little life and our happiness. Pregnancy has been the most beautiful, empowering, and life-changing experience I've had in my entire life and I'm actually going to miss it. I appreciate my friends and especially my family for helping me make this special moment as private as we could. My beautiful and healthy baby girl arrived February 1st and I just couldn't wait to share this blessing. I've never felt love and happiness like this I could burst! Thank you for understanding.
In addition to the announcement, Jenner uploaded a an 11-minute video on YouTube taking us on a journey of the past nine months through her eyes. The video features commentary from close friends such as Jordyn Woods, candid clips of her and Scott, and a look at her experience of preparing for motherhood.
Though Jenner had been mega mysterious about rumors circling around the pregnancy, that didn't stop her fans from coming up with the most convincing conspiracy theories imaginable.
So of course when Jenner finally, finally revealed that she had given birth, Twitter essentially, blew up:
The earth-shattering announcement has undoubtably left us all shook. In response to Jenner revealing both her pregnancy and now new role as a mother, her own mother Kris Jenner also shared the YouTube video and expressed her immense joy about the new arrival to the family.
"God is SO good!! I am so excited and thrilled to welcome another precious baby girl to our beautiful, ever growing family. We are blessed beyond belief," Jenner tweeted.
While Kylie Jenner's pregnancy confirmation has been one of the most anticipated events of 2018, we can expect another Kardashian coming our way very soon. On Dec. 20, 2017 Khloé Kardashian confirmed via Insagram that she is expecting a baby with NBA boyfriend Tristan Thompson. She included a heartwarming caption.
She wrote,
My greatest dream realized! We are having a baby! I had been waiting and wondering but God had a plan all along. He knew what He was doing. I simply had to trust in Him and be patient. I still at times can't believe that our love created life! Tristan, thank you for loving me the way that you do! Thank you for treating me like a Queen! Thank you for making me feel beautiful at all stages! Tristan, most of all, Thank you for making me a MOMMY!!! You have made this experience even more magical than I could have envisioned! I will never forget how wonderful you've been to me during this time! Thank you for making me so happy my love! Thank you to everyone for the love and positive vibes! I know we've been keeping this quiet but we wanted to enjoy this between our family and close friends as long as we could privately. To enjoy our first precious moments just us. Thank you all for understanding. I am so thankful, excited, nervous, eager, overjoyed and scared all in one! But it's the best bundle of feelings I've ever felt in my life!
Their lives may have always taken place in the spotlight, but everyone deserves some privacy. That won't stop me from screaming "I told you so" for the rest of the day though. Congrats Kylie!!