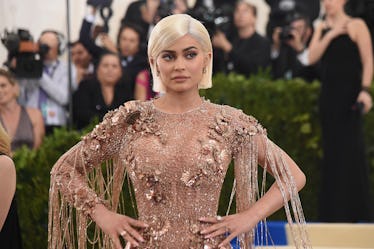 Kylie Jenner's First Photo Of Stormi Webster Broke A Huge Instagram Record & OMG
Nicholas Hunt/Getty Images Entertainment/Getty Images
Does it even surprise you that Kylie Jenner's daughter, Stormi, is already breaking records? Because I am not even the slightest bit surprised. Kylie Jenner's Instagram of Stormi Webster broke and Instagram record and I honestly can't find the right words to say right now. You guys, we're talking about a tiny human that's been on this earth for one week, and she's already doing bigger things than I have done in the decades I've been alive. I'm not sure whether to be impressed by Stormi or disappointed in myself. (Right now, I'm feeling both TBH.)
Kris Jenner took to Instagram to basically show how proud she already is of her daughter and her days-old granddaughter, because Kylie's first photo of Stormi is already the MOST LIKED PHOTO IN THE HISTORY OF INSTAGRAM.
Let that one sink in. A photo, that is not even 24 hours old, is already the most liked photo that Instagram has ever seen.
Kris Jenner's caption read:
Wow Kylie!! How incredible, this is the most-liked picture in the history of Instagram!! Thank you everyone for the outpouring of love for our precious Stormi! 💕💕 #blessed#stormi#proudmama#love@kyliejenner
At only one week old, Stormi is already killing the Insta-game.
As of now, the photo has over 13.6 million likes... and here I can't even get more than double digits on anything I post.
No, it's fine. I'm fine. Everything is fine.
Kylie Jenner announced (finally) that she was in fact pregnant on Sunday, Feb. 4, and that she had given birth to her daughter on Feb. 1. I mean, we only waited for what seemed like an eternity to finally get confirmation of this news, NBD. So it's not exactly shocking to find out that the first photo of Jenner's daughter (and the first time Jenner announced her daughter's name) is making Insta-history.
Jenner kept pretty much everyone in the dark when it came to her pregnancy. When she announced the birth of her daughter, she posted to Instagram to explain why she decided to keep her pregnancy quiet throughout the past few months.
Part of her caption read,
I'm sorry for keeping you in the dark through all the assumptions. I understand you're used to me bringing you along on all my journeys. my pregnancy was one I chose not to do in front of the world. I knew for myself i needed to prepare for this role of a lifetime in the most positive, stress free, and healthy way i knew how.
It seems like everyone in the Kardashian clan understood, and were so, so happy to congratulate Jenner once the news went public. Of course, Mama Jenner was at the top of that list, posting to Twitter that "God is SO good," alongside a video of Kylie throughout the months leading up to the birth of her daughter:
I'm not crying, you're crying.
In the video, Jenner spoke to her not-yet-born granddaughter at Kylie's baby shower, expressing how excited she was to meet her. She said,
You've got the best mom, and you're so lucky; this is such a blessing. This is gonna be the most amazing journey. I can't wait to see you, meet you, kiss you, love you... teach you things that maybe only I can teach you, and your mom can teach you the things only she can teach you, so it really takes a village and I learned that along the way.
OK, fine, now I'm crying.
Kris Jenner is obviously so proud of Kylie, and so in love with her newest record-breaking granddaughter. The Kardashian fam just keeps on growing and growing, and I am absolutely loving it.
Who run the world? The Kardashians, obviously.