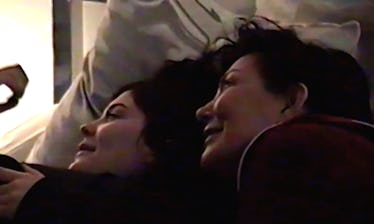 Kris Jenner Just Gave Details On Kylie Jenner's Baby Stormi & It's So Sweet
Kris Jenner has more grandkids than I can count. Just kidding, she has eight and is about to have nine once Khloé Kardashian gives birth. Still, that's a lot of grandkids. But she's loving every minute of it and can't stop gushing about babies Stormi and Chicago. Yeah, in case you missed it, Kylie Jenner named her daughter Stormi and debuted the first picture of her on Feb. 6. Fans are torn about the name, but we're here to talk about Kris. Kris Jenner's advice to Kylie Jenner about Stormi makes it clear that after six kids and (almost) nine grandchildren, Kris Jenner knows what she's talking about when it comes to raising babies.
Jenner told E! News that her youngest daughter and her newest granddaughter are doing great. "Kylie did [pregnancy] her way," she said. "Which I thought was really beautiful. She just wanted to take the time for her baby and herself. She's doing great." She really can't stop gushing about Kylie Jenner and Kim Kardashian's newborn babies. Jenner told Entertainment Tonight that having so many grandkids is "overwhelming," but she loves it. "It's a lot of little people," she said. "I love it though. I love every second of it. It's such a blessing." Jenner also told Us Weekly that when it comes to being a new mom, she told Kylie to "enjoy every second" of the first few weeks.
Kylie Jenner's "To Our Daughter" video showed just how supportive Kris Jenner was throughout Kylie's pregnancy and the birth of Stormi.
About nine minutes into the video, Jordyn Woods asks Jenner if she has a message for her granddaughter. She said,
You've got the best mom, and you're so lucky; this is such a blessing. This is gonna be the most amazing journey. I can't wait to see you, meet you, kiss you, love you... teach you things that maybe only I can teach you, and your mom can teach you the things only she can teach you, so it really takes a village and I learned that along the way.
Jenner echoed this statement again when speaking to Entertainment Tonight on Feb. 5. She gushed, "I'm just really proud of her. It's incredible. I feel very, very lucky." But she also gave herself props for her expert grandma skills and says she definitely spoils her grandchildren. Kris Jenner?! Noooooooo. "I'm getting an A right now," she joked. "I've decided I'm doing great." You ARE doing great, Mama Kris! You get 10 percent!
Kylie Jenner revealed her baby's name on Feb. 6, and fans are pretty much divided on how they feel about the name Stormi.
Others can't stop making the same joke about the name when paired with the other Kardashian baby names.
LOL. Do you think the sisters planned this? I feel like they have to have coordinated this just so they can joke about the fact that they now control the weather.
Anyway, Jenner apologized to fans on Feb. 4 for keeping them in the dark throughout her pregnancy, but she's reportedly relieved we all know now.
She said in a statement released simultaneously with her "To Our Daughter" video,
I'm sorry for keeping you in the dark through all the assumptions. I understand you're used to me bringing you on all my journeys. My pregnancy was one I chose not to do in front of the world. I knew for myself I needed to prepare for this role of a lifetime in the most positive, stress free, and healthy way I knew how. There was no gotcha moment, no big paid reveal I had planned. I knew my baby would feel every stress and every emotion so I chose to do it this way for my little life and our happiness. Pregnancy has been the most beautiful, empowering, and life changing experience I've had in my entire life and I'm actually going to miss it. I appreciate my friends and especially my family for helping me make this special moment as private as we could. My beautiful and healthy baby girl arrived February 1st and I just couldn't wait to share this blessing. I've never felt love and happiness like this I could burst! Thank you for understanding.
Homegirl could've told us about her pregnancy at any time, though!! But the past is the past. I'm just f*cking grateful she didn't make us wait another nine months before showing us a picture of Stormi and revealing her name. I honestly couldn't handle writing about more Kylie Jenner baby conspiracy theories. This is going to be me, a celebrity writer, once Khloé Kardashian has her baby, announces the name, debuts the first picture, and this year of Kardashian baby news finally comes to a close:
Dear Kendall Jenner, FOR THE LOVE OF GOD, PLEASE DON'T GET PREGNANT ANYTIME SOON.