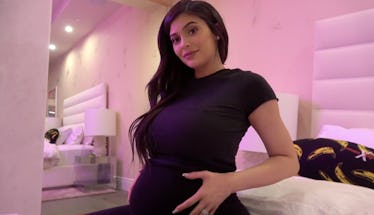 Kylie Jenner's Baby's Name Was Revealed & Twitter Is Split Over It
On Sunday, Feb. 4, Kylie Jenner finally confirmed she was pregnant with her first child after giving birth on Feb. 1, 2018. The news came just a couple of hours before the Super Bowl started, and Jenner's immediately became the top trend on Twitter, knocking the biggest sports day of the year out of the top spot. Fans had been waiting since September 2017 to find out if Jenner was actually pregnant or not. Once she confirmed the news, they wanted to know the name. And now we do!! Tweets about Kylie Jenner's baby name show just how much fans love the name Jenner and Travis Scott chose for their baby girl.
Kylie Jenner and Travis Scott named their daughter Stormi. How cute, right?! Jenner announced the name in an Instagram post that said, "Stormi." with an angel emoji, and her daughter's face out of focus in the background. I honestly am so emotional over all of this. Babies are dope, guys. Not to mention, little baby Stormi has nicer nails at 6 days old than most people have in their late 20s.
Some fans are absolutely in love with the name Kylie Jenner and Travis Scott chose for their daughter.
On the other hand, of course there are those who don't like the name and simply "aren't into it" because controversy is inevitable, even when we're talking about innocent an baby.
Jenner confirmed her pregnancy and announced the birth of her daughter on Sunday, Feb. 4 with an emotional Instagram post.
She made the announcement through an 11-minute long video called "To Our Daughter" that she posted on Twitter and Instagram.
Kylie Jenner also apologized to fans for keeping them in the dark over the last nine months and explained that she wanted to keep the baby stress-free.
The statement said,
I'm sorry for keeping you in the dark through all the assumptions. I understand you're used to me bringing you on all my journeys. My pregnancy was one I chose not to do in front of the world. I knew for myself I needed to prepare for this role of a lifetime in the most positive, stress free, and healthy way I knew how. There was no gotcha moment, no big paid reveal I had planned. I knew my baby would feel every stress and every emotion so I chose to do it this way for my little life and our happiness. Pregnancy has been the most beautiful, empowering, and life changing experience I've had in my entire life and I'm actually going to miss it. I appreciate my friends and especially my family for helping me make this special moment as private as we could. My beautiful and healthy baby girl arrived February 1st and I just couldn't wait to share this blessing. I've never felt love and happiness like this I could burst! Thank you for understanding.
Jenner tweeted the "To Our Daughter" video and paired it with a tweet that said, "God is SO good!! I am so excited and thrilled to welcome another precious baby girl to our beautiful, ever growing family. We are blessed beyond belief!"
With Khloé Kardashian soon entering her third trimester, the Kardashians are in the middle of all of their whirlwind baby bliss and these kids will be up to their necks in cousins. At this point, we've got Mason, Penelope, Reign, North, Saint, Chicago, Dream, Stormi, and Khloé's on the way; these kids are going to take over the world, and we're lucky just to witness it. What a time to be alive, guys.