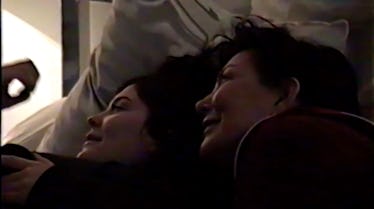 You're Gonna Cry Your Eyes Out Over Kris Jenner's Reaction To Kylie's Baby Girl
Kylie Jenner/YouTube
The day we've waited 40 long weeks for has officially (officially! finally!!!!) come. On Sunday, Feb. 4, just hours before the Super Bowl, a very special Jenner confirmed her pregnancy and the delivery of her daughter, and Kris Jenner's reaction to Kylie Jenner's baby is the most adorable mom-daughter moment I've seen in Keeping Up with the Kardashians history — and it wasn't even in an episode of KUWTK.
Kylie confirmed the happy news ahead of Sunday night's big game (and I'm not lying when I say that this moment for Jenner is bigger than the Super Bowl, and I'm sure her fandom would absolutely agree), in an amazing Instagram post and a corresponding YouTube video chronicling her pregnancy from the moment she found out, to the birth of her sister, Kim's, baby, to the moment Jenner welcomed her daughter into the world on Thursday, Feb. 1.
In the Instagram, Jenner shares that she wanted to use this time to purposely stay out of the public eye to prepare for the "role of a lifetime," which — once and for all — shuts the door on all of those rumors that suggested Jenner is much too "young" to be a parent of her own, and puts to bed the idea that she won't know what she's doing.
Unsurprisingly, from her Instagram, Jenner knew exactly what she was doing... and that was: preparing for the arrival of daughter, a new addition to an ever-growing family, and yeah, the role of her damn lifetime.
Her mom's post pretty much lays that plain, too:
The Kardashian-Jenner family is thick as thieves. Together, they've weathered breakups, makeups, a litany of bad press, great press, awkward press, divorces, scrutiny, body shaming, and a family member's transition, and that's just talking about the past five years. Leading up to this moment, it's absolutely ridiculous to think that Jenner's pregnancy wouldn't have the full support and understanding of her family (which includes two sisters who are already moms to three children and a sister who's also a soon-to-be parent in her own right). It's even more ignorant to think that, with the support of her sisters, Jenner's mom wouldn't be 100 percent behind her daughter. And as you can see in the video Kylie posted to Instagram, famous momager and "Lovie" (how the family addresses Kris instead of "grandma") was with her youngest daughter every step of the way.
Thinking about it actually makes me emotional, so let's all watch the video again, shall we?:
Kris accompanied her youngest to birthday parties, ultrasounds, and was (of course) there to share in one of her baby's most special days: her baby shower. When asked, on camera, what the mom of six had to say to her newest granddaughter, Kris Jenner was full of the seasoned wisdom, honesty, and adoration for her family that we've come to expect. Not a trace of judgment, either.
Kris also touched on the importance of having a community to surround you in those early days (and really, all the days) of motherhood. At Kylie's baby shower, Kris said:
You've got the best mom, and you're so lucky; this is such a blessing. This is gonna be the most amazing journey. I can't wait to see you, meet you, kiss you, love you... teach you things that maybe only I can teach you, and your mom can teach you the things only she can teach you, so it really takes a village and I learned that along the way.
A few minutes later, you hear Kylie sharing that Khloé and Kris were at the hospital with her when Kylie went into labor (and Kendall phoned in via FaceTime). The most special moment, though? Hearing Kris say, "good job" as Kylie brought her baby earth side.
If that isn't the most special moment for these two, I don't know what the hell else is.