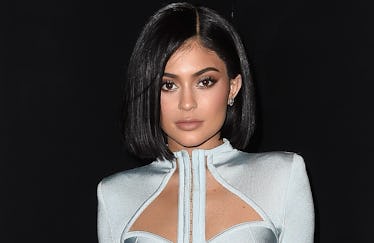 Kylie Jenner Has Reportedly "Never Been Happier" Since Bringing Her Baby Home
Kylie Jenner is adjusting to life as a new mom and is apparently loving every minute of it. According to a source close to the family, Kylie Jenner has reportedly "never been happier" since bringing her baby home and feels she's been waiting to be a mom her entire life. Jenner confirmed her long-rumored pregnancy on Sunday, Feb. 4, right before the Super Bowl. She revealed in an emotional video that her and Travis Scott's daughter (whose name hasn't been revealed yet) was born at 4:43 p.m. on Thursday, Feb. 1. A source told E! News that while Jenner was nervous about the birth, the whole thing was "very peaceful and calm" and she's over-the-moon happy with the family she and Scott have made.
"She is so in love and feels like this is what she was put on this earth for," the source said. "Kylie was ready for the baby to arrive, but says nothing can prepare you for the moment of the actual arrival. She was very nervous, but knew she was in good hands at the hospital. It was a smooth and quick delivery." Honestly, good for Jenner for being this ready to have a baby. I'm 24 and the thought of having a kid right now makes the voice in my head scream, "YOU HAVE, LIKE, $12. YOU CAN'T HAVE A KID, YOU IDIOT." Lol, tru.
The video clocks in at 11 minutes long and gives us an intimate look into what the last nine months of Jenner's life has been like while she kept out of the public eye. Another source told E! News that Jenner has been loving her first week of being a mom. "Kylie's first few days of motherhood have been the happiest of her life," they said. "She feels like being a mom is her true calling and there's nothing that's ever felt so right. Bringing the baby home has been the greatest joy and most sacred experience, she is elated and overjoyed. Kylie felt so ready to meet the baby and had been counting down the weeks for what felt like forever, she can't believe she's finally here and in her arms and this journey is beginning."
In a statement directly to her fans posted on Instagram and Twitter, she apologized for keeping them in the dark throughout her pregnancy.
Jenner said she knew any feeling she felt would affect her baby, so she wanted to remain stress-free. And that means no fame for a little bit. According to the source, it took a lot out of Jenner to keep the baby news hidden for so long and Jenner is apparently "very relieved" she was finally able to tell fans. Girl, we were begging you to tell us!! You could've at any time!! But it's all good, your reasons for keeping this private are more than fair. But, like, LOL, we're very revealed you finally told us, too. The source said, "It's been a lot of work to keep something under wraps that she's been so excited about. The fact that the news is out feels like a weight off her back."
While the source says Kris Jenner has been a "constant support" throughout the pregnancy and following the birth and is "helping with whatever" she can, they said, "Travis's family is also very involved and thrilled for Kylie and Travis. Kylie feels like everything is coming very naturally to her and that being a mom is what she's meant to do." The continued,
She's loving every minute and cherishing these first few days. The feeling she has is unlike anything she's experienced before. The family is closer than ever and just so thrilled to be growing at such a rapid pace.
The first mentioned sources tells E! News that Jenner and Scott "fell in love" all over again through throughout Jenner's pregnancy. "He was very much there for her throughout the entire delivery and stayed overnight with her in the hospital while she was recovering," they said. "Seeing him be a dad to their baby made Kylie feel very safe and happy. She loves her little family that she has created."
They also talked about Jenner and Scott's obsession with butterflies and confirmed they decorated the baby's nursery with butterflies. "Kylie decorated the baby's nursery in white, baby pink and there are butterfly accents," they said. "Butterflies mean a lot to both Travis and Kylie and it's a symbol of their relationship and something special that they have created together." Fans think Jenner and Scott named their baby Posie, which would be short for Mariposa. Mariposa is the Spanish word for butterfly, so this checks out. Only time will tell if that's what they actually named the baby, but the hints are strong.