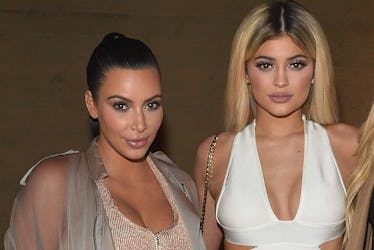 Kim Kardashian Wrote About Kylie Jenner's Baby On Her App & It's So Sweet
Kylie Jenner finally confirmed all of the baby rumors surrounding her on Sunday, Feb. 4, when she revealed she gave birth to her first daughter on Feb. 1. Her family has been weighing in on the news ever since, and Kim Kardashian's response to Kylie Jenner's baby is so precious and shows how happy she is for her youngest sister. Jenner announced the birth of her and Travis Scott's first child in an 11-minute video called "To Our Daughter" posted to her social media accounts. She also explained in a statement to fans why she kept her pregnancy a secret for its entirety. She said,
I'm sorry for keeping you in the dark through all the assumptions. I understand you're used to me bringing you on all my journeys. My pregnancy was one I chose not to do in front of the world. I knew for myself I needed to prepare for this role of a lifetime in the most positive, stress free, and healthy way I knew how. There was no gotcha moment, no big paid reveal I had planned. I knew my baby would feel every stress and every emotion so I chose to do it this way for my little life and our happiness. Pregnancy has been the most beautiful, empowering, and life changing experience I've had in my entire life and I'm actually going to miss it. I appreciate my friends and especially my family for helping me make this special moment as private as we could. My beautiful and healthy baby girl arrived February 1st and I just couldn't wait to share this blessing. I've never felt love and happiness like this I could burst! Thank you for understanding.
Kardashian posted about Jenner and Scott's happy news in a post on her app on Monday, Feb. 5, that read, "Mommy Kylie!!! You did it!!! I'm so incredibly proud of the woman you have grown up to be and I know that you are going to be the best mom to your new baby girl!" She contiuned, "Our girls are two weeks apart and I can't wait for them to be besties! I am so proud that you do what you want to do and live your life the way you want, you will pass down all of those amazing qualities to your baby girl. You were made to be a mom! I love you!" Kardashian posted Jenner's emotional video on her app along with the statement.
And Jenner's "To Our Daughter" video actually debuted Chicago West to the world. So thank you for that, Kylie!!
In the video, you see Kim Kardashian handing baby Chi over to her Aunt Kylie (possibly for the very first time). They talk about baby names and Kardashian says, "I think we're going to go with Chicago." Kylie, while holding the baby, says, "I love Chicago."
Jenner and Scott haven't revealed what their baby's name is just yet, but fans think they named her Butterfly.
They basically think this because Scott and Jenner have an obsession with butterflies. They have matching butterfly tattoos, Scott gave Jenner a diamond butterfly necklace for her birthday, Jenner has other butterfly jewelry and butterfly decorations all over her house, and Scott has a song called "Butterfly Effect." Butterfly could just be what they called the baby before they settled on a name, but we're stuck in another Kylie Jenner baby news waiting game until she announces the name herself.
Kim Kardashian's surrogate gave birth to Chicago West on Jan. 15, 2018, Kylie Jenner gave birth to her baby just two weeks later on Feb. 1, and Khloé Kardashian is reportedly due in March. It's pretty amazing that their children will all be so close in age and that they all experienced pregnancy together.
She posted an Instagram on Sunday, Feb. 4, dedicated to her little sister saying,
Congratulations My Sweet Kylie! What a magical ride it's been! I'll miss you bumping along with me. Never in a million years did I think we would do this together but it's been that much more special because of it. God is so great!! He had His plan all along! I love you little mama 💕 love big mama
Guys... why am I crying right now?!