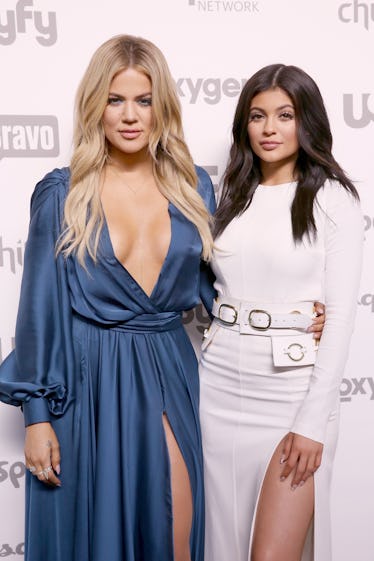 Khloé Kardashian's Response To Kylie Jenner's Pregnancy Post Is The Cutest Thing Ever
Robin Marchant/Getty Images Entertainment/Getty Images
IT'S HAPPENING. IT'S REALLY, REALLY HAPPENING. For months, fans have been glued to their computer screens waiting for the moment when reality star Kylie Jenner would confirm she's expecting her first child with current boyfriend, Travis Scott. Finally, on Feb. 1, the news arrived that Kylie Jenner officially had a baby girl. Since learning this information, her family and friends have been showing their support on social media, but Khloé Kardashian's response to Kylie Jenner giving birth takes the cake... here's why.
UPDATE: Khloé Kardashian posted an Instagram for Kylie Jenner in support of her pregnancy announcement. She wrote in the caption, "Congratulations My Sweet Kylie! What a magical ride it's been! I'll miss you bumping along with me. Never in a million years did I think we would do this together but it's been that much more special because of it. God is so great!! He had His plan all along! I love you little mama 💕 love big mama."
EARLIER: On Wednesday, Dec. 20, Khloé Kardashian took to Instagram to confirm she's expecting her first child with current boyfriend, Tristan Thompson. The star wrote to followers,
My greatest dream realized! We are having a baby! I had been waiting and wondering but God had a plan all along. He knew what He was doing. I simply had to trust in Him and be patient. I still at times can't believe that our love created life!
She also penned an emotional note to Tristan thanking him for his love and support:
Tristan, thank you for loving me the way that you do! Thank you for treating me like a Queen! Thank you for making me feel beautiful at all stages! Tristan, most of all, Thank you for making me a MOMMY!!! You have made this experience even more magical than I could have envisioned! I will never forget how wonderful you've been to me during this time! Thank you for making me so happy my love!
She concluded by admitting she wanted to keep the news on the DL before sharing with fans:
Thank you to everyone for the love and positive vibes! I know we've been keeping this quiet but we wanted to enjoy this between our family and close friends as long as we could privately. To enjoy our first precious moments just us. Thank you all for understanding. I am so thankful, excited, nervous, eager, overjoyed and scared all in one! But it's the best bundle of feelings I've ever felt in my life!
The message was shared with a beautiful black and white image of Tristan's hands on Khloé's baby bump.
Pregnancy rumors surrounding Khloé Kardashian and Kylie Jenner were floating around for months, so fans are so excited to know both pregnancies have finally been confirmed.
Jenner posted to Instagram on Feb. 1, writing, "I'm sorry for keeping you in the dark through all the assumptions. I understand you're used to me bringing you along on all my journeys. My pregnancy was one I chose not to do in front of the world. I knew for myself I needed to prepare for this role of a lifetime in the most positive, stress free, and healthy way I knew how. There was no gotcha moment, no big reveal I had planned. I knew my baby would feel every stress and every emotion so I chose to do it this way for my little life and our happiness ... Pregnancy has been the most beautiful, empowering, and life changing experience I've had in my entire life and I'm actually going to miss it. I appreciate my friends and especially my family for helping me make this special moment as private as we could. My beautiful and healthy baby girl arrived February 1st and I just couldn't wait to share this blessing. I've never felt love and happiness like this I could burst! Thank you for understanding."
When Kardashian posted her pregnancy announcement, all eyes were on Kylie Jenner. The lil sis showed her support by liking the Instagram, making fans go nuts on social media. Now that Jenner has confirmed her pregnancy in an Instagram post, Khloé has reciprocated that support.
It's truly amazing that these sisters have had each other's backs through their pregnancies, and I'm sure it was great to have someone so close be going through the same thing when you are.
The rest of the Kardashian clan took to social media to support Kylie and her baby girl.
Kris Jenner posted a snippet of Kylie Jenner's pregnancy video, writing:
God is SO good!! I am so excited and thrilled to welcome another precious baby girl to our beautiful, ever growing family. We are blessed beyond belief! #repost@kyliejenner thank you @wttyler for putting this together. here's a little glimpse of the last 9 months. the link is in my bio ♥️
Kendall Jenner and Kim Kardashian West also sent some supportive tweets Kylie's way.
Congratulations to Kylie, Travis Scott, and the entire Kardashian family on their latest addition.