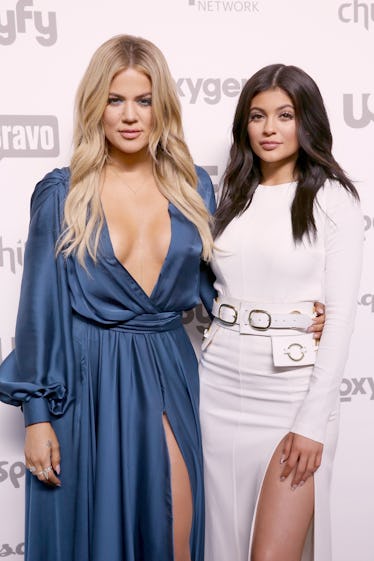 Kylie Jenner's Response To Khloé Kardashian's Pregnancy Instagram Will Make You Go Nuts
Robin Marchant/Getty Images Entertainment/Getty Images
The world has been waiting for months for Khloé Kardashian to confirm that she is expecting her first child with Tristan Thompson, and on Dec. 20, our prayers were answered. The Keeping Up With The Kardashians star posted an Instagram to share her glorious pregnancy announcement with fans. Now people can't stop talking about Kylie Jenner's response to Khloé Kardashian's pregnancy, because DUH! All eyes are on the lil sis.
In the Instagram post, Khloé said having a baby was her "greatest dream realized." She wrote,
We are having a baby! I had been waiting and wondering but God had a plan all along. He knew what He was doing. I simply had to trust in Him and be patient. I still at times can't believe that our love created life! Tristan, thank you for loving me the way that you do! Thank you for treating me like a Queen! Thank you for making me feel beautiful at all stages! Tristan, most of all, Thank you for making me a MOMMY!!!
She continued to thank Thompson, her family, and friends for all their support:
You have made this experience even more magical than I could have envisioned! I will never forget how wonderful you've been to me during this time! Thank you for making me so happy my love! Thank you to everyone for the love and positive vibes! I know we've been keeping this quiet but we wanted to enjoy this between our family and close friends as long as we could privately. To enjoy our first precious moments just us. Thank you all for understanding. I am so thankful, excited, nervous, eager, overjoyed and scared all in one! But it's the best bundle of feelings I've ever felt in my life!
In addition to the message, Kardashian shared a beautiful black and white photo debuting not only her baby bump, but some bling on her ring finger:
YEAH, IT'S A LOT TO HANDLE. Of course, fans are wondering if this means Khloé Kardashian and Tristan Thompson are engaged. Honestly, we have no way to know for sure, but I think it's safe to assume these two plan to tie the knot soon, even if they're not officially engaged yet. I mean, have you heard the way they talk about each other? They are in love.
But back to what we do know: Khloé is officially pregnant. Fans and family members flooded Kardashian's Instagram post with heart-eyed emojis and sweet comments. I personally haven't even had a SECOND TO BREATHE so I don't know how people can type. Kylie Jenner showed support for her big sis by throwing an Instagram like. DON'T BELIEVE ME? HERE'S THE RECEIPT:
Subtle, but smooth. You feel me? So far, the Life Of Kylie star hasn't commented on Khloé's announcement, but we know something is coming. Twitter right now is basically just people tweeting at Kylie Jenner being like, "Yo, pretty mama, you preggerz or not? We lookin' at you, sweet cakes."
(Literally no one has said those exact words, but SAME IDEA.)
Pretty much everyone is waiting for Jenner to confirm she has a bun in the oven, if you know what I'm sayin'. According to reports, Jenner is expecting her first child with her current boyfriend, Travis Scott. There's actually a fan theory circulating that Jenner will make her pregnancy announcement as part of the Kardashian Christmas Card series. So far, the 20-year-old reality star hasn't appeared in a single goddamn pic. Seriously, the entire thing has been close-ups of Saint West looking at the camera and Mason Disick running around in circles.
So, Kylie Jenner, are you gonna confirm dis sh*t or what? We finally know Khloé and Tristan are welcoming a beautiful baby in 2018 (reportedly due in February!!!!) so now we need to know if another Kardashian/Jenner baby is on the way.
Post it on Insta, share it on Twitter, or just text me if you wanna keep it on the DL!