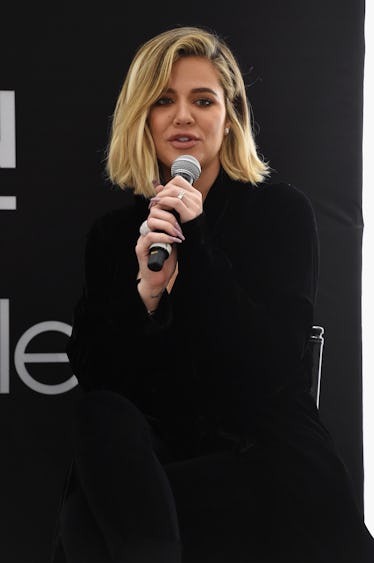 This Mysterious Detail In Khloé's Pregnancy Announcement Has Fans Losing It
Jamie McCarthy/Getty Images Entertainment/Getty Images
GUYS, WE ASKED AND ASKED AND ASKED, AND KHLOÉ ANSWERED. On Wednesday, Dec. 20, Khloé Kardashian confirmed she is expecting a child with longtime boyfriend Tristan Thompson via an amazingly sweet Instagram post. ARE YOU BREATHING, BECAUSE I'M NOT. Now, fans are absolutely freaking out and asking one major question: Now that we know the two are expecting, are Khloe Kardashian and Tristan Thompson married or engaged? A subtle clue in her Instagram announcement has fans side-eyeing hard in between their gasps for air.
Obviously, the literal focal point of the Instagram photo is Khloé's and Tristan's hands cradling her baby bump. BUT if you look toward the bottom of the photo, you'll notice a pretty big ring gracing Khloé's ring finger — a ring so big and shiny, it would probably simultaneously blind me and kill me if she punched me in the face. While neither Khloé nor Tristan have commented on being engaged or married as of yet, it's safe to say that fans are absolutely freaking out wondering if the reality star and the Cleveland Cavaliers player are planning a wedding in addition to a baby nursery. Or did they just elope without anyone knowing? The Kardashians are obviously pretty good at keeping things under wraps, and I mean, LOOK AT THE FREAKING RING:
Unfortunately, in the photo, Khloé's hand is conveniently covering up Tristan's ring finger, so TBH, whether or not the two of them tied the knot recently is still up in the air.
Seriously, the people want more answers, KoKo!
Well, sadly for fans (fans meaning mostly me), it'll probably take some time before we actually get another confirmation from Khloé about an engagement or marriage to Tristan — and the reason why is totally valid. In the caption of her Instagram confirmation, Khloé wrote that she and Tristan "wanted to enjoy this between our family and close friends as long as we could privately." This means that if an engagement or marriage have happened, or are going to happen, the couple will probably want to keep those details private for a while, too, as they have every right to... you know, even though we're all dying to know every detail of every part of their life. I'M FINE.
The full caption of the photo obviously relayed how excited both Khloé and Tristan are and how thankful they are for Khloé's "greatest dream" coming true:
My greatest dream realized! We are having a baby! I had been waiting and wondering but God had a plan all along. He knew what He was doing. I simply had to trust in Him and be patient. I still at times can't believe that our love created life! Tristan, thank you for loving me the way that you do! Thank you for treating me like a Queen! Thank you for making me feel beautiful at all stages! Tristan, most of all, Thank you for making me a MOMMY!!! You have made this experience even more magical than I could have envisioned! I will never forget how wonderful you've been to me during this time! Thank you for making me so happy my love! Thank you to everyone for the love and positive vibes! I know we've been keeping this quiet but we wanted to enjoy this between our family and close friends as long as we could privately. To enjoy our first precious moments just us ❤️ Thank you all for understanding. I am so thankful, excited, nervous, eager, overjoyed and scared all in one! But it's the best bundle of feelings I've ever felt in my life! ❤️❤️❤️
Khloé's long-awaited confirmation comes after months of speculation that she was expecting. The rumors began way back at the end of Sept. 2017, when multiple sources claimed Khloé was expecting. These reports came just days after reports claiming Kylie Jenner was pregnant began circulating.
While we're all still awaiting a confirmation on Kylie's end, I guess it's safe to say Khloé has taken it upon herself to continue building the Kardashian army. Congratulations to Khloé and Tristan. Here's to a safe pregnancy, a happy baby, and to you guys picking me as the godmother (references available upon request).