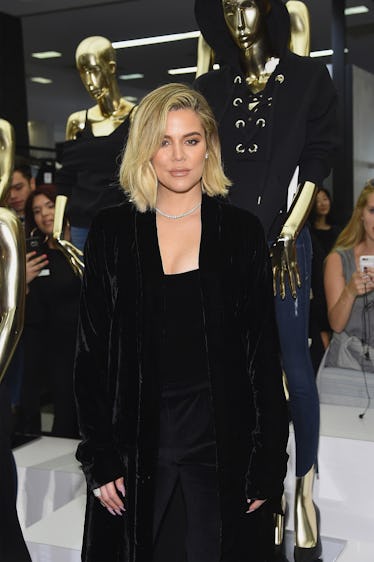 The Kardashian Reactions To Khloe's Confirmed Pregnancy Are So, So Cute
Jamie McCarthy/Getty Images Entertainment/Getty Images
OMG, Khloé Kardashian has finally, finally, finally confirmed her pregnancy and fans can't handle it. The anticipation has just about ruined us as a society. The Karashians' responses to Khloé Kardashian's pregnancy replicate our feelings exactly. They are so, so excited!
UPDATE: On Thursday, Dec. 21, Kris Jenner took to Instagram to share her excitement about Kardashian's baby news. She reposted the original announcement picture and wrote, "God is so good!! I am beyond excited! What a blessing!!!!!!! ❤️"
EARLIER: On Wednesday, Dec. 20, Khloe took to Instagram to announce she is expecting her first child with Tristan Thompson. She wrote,
My greatest dream realized! We are having a baby! I had been waiting and wondering but God had a plan all along. He knew what He was doing. I simply had to trust in Him and be patient. I still at times can't believe that our love created life! Tristan, thank you for loving me the way that you do! Thank you for treating me like a Queen! Thank you for making me feel beautiful at all stages! Tristan, most of all, Thank you for making me a MOMMY!!! You have made this experience even more magical than I could have envisioned! I will never forget how wonderful you've been to me during this time! Thank you for making me so happy my love! Thank you to everyone for the love and positive vibes! I know we've been keeping this quite but we wanted to enjoy this between our family and close friends as long as we could privately. To enjoy our first precious moments just us Thank you all for understanding. I am so thankful, excited, nervous, eager, overjoyed and scared all in one! But it's the best bundle of feelings I've ever felt in my life!
Since posting her pregnancy reveal, Kim Kardashian has liked the photo to show her support, and Kendall and Kris Jenner flooded the post with heart-eye emojis. In addition to that, Kourtney Kardashian and Kylie Jenner liked the post, along with several other celebrities including Chrissy Teigen and Gigi Hadid. In addition to that, Rob Kardashian also regrammed the photo and added a heart emoji.
The hype began months ago, so fans have been waiting for this day for a long time. First, reports that baby sis Kylie Jenner is expecting a baby hit the media waves, quickly followed by Khloé's good news. She and boyfriend Tristan Thompson are finally letting us know that they're for sure welcoming a bundle of joy in 2018, and we seriously can't wait.
For the past few months, fans have been glued to Khloé's social media feeds looking for any signs of a baby bump, baby news, baby anything.
We've gone nuts analyzing her every outfit and every photo, wondering "Hm... well, if she turned to the right maybe we would be able to see if she has a baby bump, but then again it could just be the lighting. Know what? LET'S FREAK OUT AND WRITE A THINK PIECE ABOUT IT!"
Ugh. Glorious. We couldn't be happier for her.
Fans are particularly pumped for Khloé after her trying relationship with her ex husband, Lamar Odom, came to a dramatic end. The professional basketball player and reality TV star finally called it quits after Odom recovered from his life threatening overdose.
Then, at the beginning of 2017, she wrote a post on her blog/app saying she "has her happy back," and it was in large part to her supportive and loving relationship with Thompson.
She wrote,
At this moment, a few days into 2017, I feel incredibly clear and probably the happiest I've been in years. It's such a great feeling that I have my happy back! It's from a genuine place and the most peaceful place I've been in for longer than I can even remember.
Here we are almost a year later, and Khloé is even happier.
In the season finale of Season 13 of Keeping Up With The Kardashians, Khloé revealed that Thompson wants a big family, suggesting this baby is just the beginning of an enormous (like, multiple members who are also really tall) family.
At the time, she said,
He wants to have about five or six kids with me and that's lovely. We could start at one and we could grow from there. But now knowing I'm not on birth control is scary. It's like a really big step.
Right... a step that has led to a BABY!
Sister Kim also confirmed she and Kanye will be having their third child via surrogate in January, which she celebrated this past month with an epic baby shower. According to People magazine, Kylie also threw herself a baby shower just one day after her big sister, but the entire event remained off social media.
We're so excited for mini KoKo to grow up with her Kim's little one on the way, and potentially Kylie's maybe-baby, too.
No matter how you slice this pumpkin pie, the Kardashian/Jenners have a lot to be thankful for this holiday season. Congratulations, KoKo and Tristan!
Check out the entire Gen Why series and other videos on Facebook and the Bustle app across Apple TV, Roku, and Amazon Fire TV.