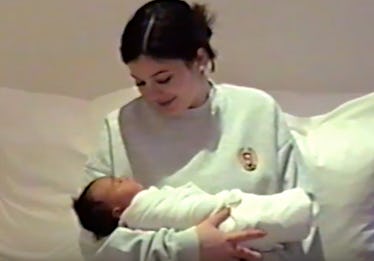 Kylie Jenner Holds Chicago West In Adorable Video & My Heart Is Melting
Hello and welcome to a world full of three Kimye babies. Kim Kardashian and Kanye West's third bundle of joy, Chicago West, is here and I couldn't be happier. Fans have been waiting so, SO patiently to get a look at that gorgeous little face and now we can finally see what Chi looks like. On Feb. 4, 2018, Kylie Jenner confirmed she delivered a baby of her own girl on Feb. 1 and shared a heartwarming video of her pregnancy journey. In one scene, there's a video of Chicago West, and Kylie Jenner even gets to hold her adorable niece. It's such a precious moment, and you need to check it out below.
The world is busy celebrating both Chicago West's and Kylie Jenner's baby's arrivals and also taking a nice long break from obsessing over their due dates. Now, we can focus our energies on more important things... like the meaning of their names, what their nurseries looks like, if Chicago gets along with her big sister, North, why Kim and Kanye didn't call me the moment she arrived... you know — the usual.
The rumors of Kimye baby number three began circulating way back in Season 13 of Keeping Up With The Kardashians, and Kardashian confirmed she was on her way by the beginning of Season 14. In a famous video clip, Kardashian was filmed talking to sister Khloé on FaceTime, and giddily announced, "We're having a baby!"
Now, here Chicago is. AND ALSO, KYLIE JENNER'S BABY GIRL IS HERE, TOO. Wow, what a great day to be alive. You can get a nice look at Chicago in the video Kylie made for her own newborn.
In the clip above, you can watch a beautiful scene where Kim Kardashian brings Chicago West to meet Kylie, and Kylie gets to hold her (check around the eight-and-a-half minute mark).
It's a seriously sweet moment as mom-to-be Kylie holds little baby Chicago, with mom Kim watching on. "She's so little," Jenner coos to the baby. Jenner asks Kardashian if she decided on a name, and Kardashian says she thinks they decided on Chicago. Everyone murmurs their approval, with Jenner saying she "loves" the name.
And then, in typical Kardashian fashion, things go from adorable to cringeworthy, in that sisterly way. "I need to school you on what your vaginas about to feel like," Kardashian tells Jenner. Aaaaand end scene. Nice.
As you can see in the video, clearly, Kim and Kylie bonded throughout their pregnancies, even if they were under very different circumstances. For Chicago's health birth in particular, fans are rejoicing for more than a few reasons. Notably, Kim Kardashian suffered two very difficult pregnancies with her first two children, and we're pumped to learn Chicago West made it here safe and sound.
The decision to go with a surrogate was not one that Kardashian took lightly, and in fact was much more difficult than even she thought it would be. Despite openly hating being pregnant herself, Kardashian revealed if it were up to her, she still would have carried her third child on her own. However, based on the advice and recommendations from her doctors, she and West decided surrogacy was the safest route.
In a candid interview with Entertainment Tonight, she said,
You know, it is really different. Anyone that says or thinks it is just the easy way out is just completely wrong. I think it is so much harder to go through it this way, because you are not really in control.
... Obviously you pick someone that you completely trust and that you have a good bond and relationship with, but it is still … knowing that I was able to carry my first two babies and not my baby now, it's hard for me. It's definitely a harder experience than I anticipated just in the control area.
She even added,
I hated being pregnant and I never thought I'd ever ... I thought this was going to be so easy, but you know, even in how much I hated it, if I could do it myself I would have preferred that. So, that inner struggle is kind of hard, but I am just rolling with it and it is what it is.
Well stress no more, Kim! Now comes all the fun stuff, like picking out designer baby clothing and changing diapers. You know the drill.
In fact, after Kim threw herself a crazy gorgeous baby shower complete with tea and cherry blossoms, Jenner reportedly hosted a low-key shower for herself just one day later. People reported the event took place at Jenner's home and was purposely kept off of social media. Still, it hasn't stopped eagle-eyed fans from obsessing over her Instagram pictures and writing extensive think pieces on sister Khloé's clothing choices.
UGH. WILL WE NEVER BE SATISFIED?
Now, they can bond over raising their respective newborns. Congratulations, Kim and Kanye and Kylie and Travis! Hang on, world!
Check out the entire Gen Why series and other videos on Facebook and the Bustle app across Apple TV, Roku, and Amazon Fire TV.