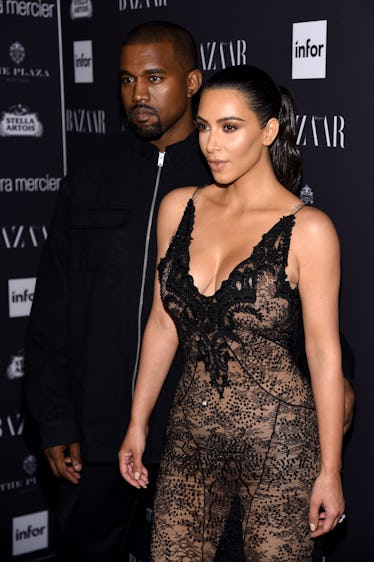 The First Photo Of Chicago West Is Here & She Looks So, So Adorable
Dimitrios Kambouris/Getty Images Entertainment/Getty Images
We finally have our first glimpse at Kim Kardashian and Kanye West's third child, Chicago West, from paparazzi photos shared on Friday, Feb. 2. TMZ shared the first photo of Chicago West from a trip Kardashian West took with her newborn baby to the doctor's office in L.A. on Thursday.
The photos show Kardashian West from behind wearing a pair of grey sweatpants, a white crop top, and some seriously amazing snakeskin heels. Her iconic silver hair is straight in a short lob cut. In one photo, she's reaching over the stroller in front of her, and inside that little stroller is baby Chicago West. The pictures are a bit blurry and we don't see baby Chicago's entire face, but you do get a glimpse of that adorable little nose and some full lips.
This is the first time we've seen of Chicago West since she was born earlier this year on Jan. 15. Kardashian West updated her app to share the news on Jan. 16, writing, "January 15, 2018, 12:47 a.m., 7 lbs 6 oz. Kanye and I are happy to announce the arrival of our healthy, beautiful baby girl. We are incredibly grateful to our surrogate who made our dreams come true with the greatest gift one could give and to our wonderful doctors and nurses for their special care. North and Saint are especially thrilled to welcome their baby sister. Love, Kim Kardashian West."
While the photos of the newest baby West are adorable, the fact that they were taken by paparazzi during a doctor's appointment does seem a little invasive. For one, baby Chicago West is only a few weeks old. Also, both for North and Saint West's first photos, Kim K and Kanye West were able to share on their own time, when they felt they were ready to debut their child to the world (and I'm sure that's no easy decision).
With Kardashian West's first two children, North and Saint, media had to wait quite a while before getting the first full photo from the couple. For example, North West was born on June 15, 2013. We didn't get a first photo of her until Aug. 23, 2013, when Kanye West shared it on grandma Kris Jenner's talk show.
For baby Saint, who was born on Dec. 5, 2015, we got a first glimpse on Feb. 22, 2015. So, from that, we could probably guess that Kim K and Kanye will debut a photo of baby Chi in another month or two. But again, that's all on their own time.
Despite not knowing exactly what the little bundle of joy looks like, we know Chicago West is fitting into the family just fine. On the same day the paparazzi photos of Chicago West were published, Kim Kardashian West recorded her son, Saint West, playing with her new KKW fragrance. In the video, she says to Saint, "Saint, what's this perfume you're carrying around? Is that mommy's perfume? Who is that for?" Later in the video, Saint answers "Sissy." Kardashian West says, "For Sissy? That's nice of you, you got Sissy perfumes for Valentine's Day? ... Northie gets the pink one and Chi gets the purple?"
How much cuter can they get?
While the photos of Chicago West have been shared, it's important to remember that with everything Kim Kardashian West has gone through concerning her privacy and the privacy of her family (I don't think anyone has forgotten what she went through after her Paris robbery in 2016), we have to be OK with the fact that the real first photo of Chicago West will come from the Kardashian West family. As a woman and a mom of three, Kim deserves that.