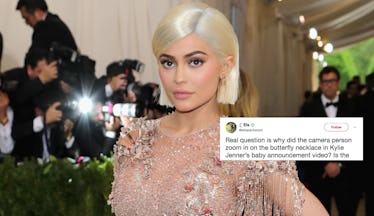 Kylie Jenner May Have Been Giving Hints About Her Baby's Name All Along
Kylie Jenner is officially a mom, and if you thought her confirming her long-rumored pregnancy meant the Twitter conspiracy theories would stop, congratulations. You played yourself. After Jenner confirmed the birth of her and Travis Scott's daughter on Sunday, Feb. 4, fans immediately started diving in to name theories and they think they've cracked the code. Based on clues they think have been laid out by Jenner in the last nine months, fans think she named the baby Butterfly. And these hints Kylie Jenner named her daughter Butterfly actually hold some weight.
UPDATE: On Tuesday, Feb. 6, Kylie Jenner confirmed she named her baby "Stormi" in a picture shared on Instagram.
EARLIER: Jenner revealed her pregnancy and the birth of her daughter on Feb. 4 in an emotional 11-minute video titled "To Our Daughter." She revealed in the video that the baby was born on Thursday, Feb. 1, around 5 p.m., and you actually hear the moments the baby was born at the end of the video. Throughout the video, you see Jenner in all the stages of her pregnancy as we get insight into what she's been up to over the last nine months. Fans noticed that Jenner was wearing a stunning gold chain covered in diamond-encrusted butterflies throughout the video. This necklace has made them think the baby's name is Butterfly.
The person holding the camera zooms in and focuses on Jenner's necklace, given to her by Travis Scott as a birthday present back in August. According to TMZ, the necklace is worth $60k.
Jenner also decorated her house with butterfly decals, has posted lots of photos of the other pieces of butterfly jewelry she has in the past, has a matching butterfly tattoo with Scott, and Scott has a song dedicated to Jenner called "Butterfly Effect."
These clue have fans convinced that the couple's butterfly obsession had a deeper meaning all along.
Honestly, this isn't that bad of a guess. Jenner could have very well named her daughter Butterfly based on all of these things. Or maybe she named her Mariposa (the Spanish word for butterfly), since "Mari" would be an objectively better nickname than "Butter." Don't get me wrong, I love, loveeeeee me some butter, but not as a name. No. That's not happening. That's over. It's canceled. Sorry, Ky!
Jenner hasn't announced the name of the baby yet, though, so once again, we're back to waiting for Kylie Jenner to confirm or deny baby rumors. *Eye twitches intensely*.
Jenner apologized to fans for keeping them in the dark about her pregnancy in a statement on Feb. 4., right after she announced the baby news.
She said,
I'm sorry for keeping you in the dark through all the assumptions. I understand you're used to me bringing you on all my journeys. My pregnancy was one I chose not to do in front of the world. I knew for myself I needed to prepare for this role of a lifetime in the most positive, stress free, and healthy way I knew how. There was no gotcha moment, no big paid reveal I had planned. I knew my baby would feel every stress and every emotion so I chose to do it this way for my little life and our happiness. Pregnancy has been the most beautiful, empowering, and life changing experience I've had in my entire life and I'm actually going to miss it. I appreciate my friends and especially my family for helping me make this special moment as private as we could. My beautiful and healthy baby girl arrived February 1st and I just couldn't wait to share this blessing. I've never felt love and happiness like this I could burst! Thank you for understanding.
Khloé Kardashian's response to Kylie Jenner's baby was the sweetest thing ever. The sisters were pregnant together for a time, and she posted an emotional Instagram of her and Jenner after the news came out.
She wrote,
Congratulations My Sweet Kylie! What a magical ride it's been! I'll miss you bumping along with me. Never in a million years did I think we would do this together but it's been that much more special because of it. God is so great!! He had His plan all along! I love you little mama 💕 love big mama
Kardashian unfortunately did not give any hints about the name. No butterfly emoji in the caption or anything. COME ON, KHLOÉ. THROW US A FREAKING BONE.
I guess fans will have to keep their eyes on Kylie's social media for any more hints about her daughter's name.