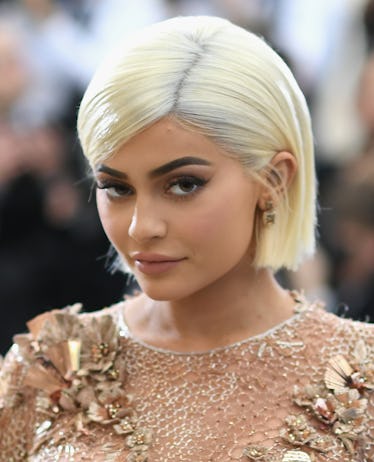 Kylie Jenner's Major Birth Announcement Was Missing One Crucial Detail
Dimitrios Kambouris/Getty Images Entertainment/Getty Images
Well, after all that speculation, we finally know that Kylie Jenner was in fact pregnant, because on Sunday, Feb. 4, the star announced that she had already given birth three days prior. That's right, Kylie managed to keep all nine months of her pregnancy and the birth of her baby girl a secret. On Sunday, however, she finally revealed exactly when she gave birth, how and why she kept the whole thing private, and even how much the baby weighed. But despite all that information, we still don't know the name of Kylie Jenner's baby with Travis Scott.
There's a chance Kylie hasn't chosen a name yet. Naming a baby is, like, a really big deal. I've never actually done it (because I've never actually been pregnant), but I can imagine it takes a lot of thought, effort, and compromise. Why? Because your baby's name will be the name they're stuck with for the rest of their life, and you want to make sure they actually like it. Plus, the Kardashian family has a record of great baby names, so the pressure is on.
There's also pressure from fans, because even though we all finally got the confirmation we've been waiting for, after Kylie kept the world's biggest secret for nine entire months, many people are already impatient about learning the baby's name. Just look at what fans are saying on Twitter.
You can't even blame people for being so eager for a name, considering that Kylie's birth announcement was an 11-minute video containing so many other details. Just watch the moving video below and try not to become obsessed with learning the baby's name.
So now that Kylie's baby is finally here and we know what happening behind the scenes, let's take a trip down memory lane to the moments we were convinced Kylie was preggers — even though she didn't say anything.
For starters, let's talk about when the entire internet was fooled by a Snapchat. On Friday, Jan. 12, a Snap from Travis Scott hit the internet and caused a literal meltdown. The Snap said, "Make it home to ya one way or another." From that moment, fans were convinced Travis Scott was traveling home to comfort Kylie during her labor. Unfortunately, the Snapchat was a haux, and was originally posted in December. Bummer.
On the same day, rumors hit the web that Kylie was actually in labor — which made the Snapchat even more believable. Fans started losing it late in the afternoon when people reportedly saw Kylie Jenner at the hospital in LA. I mean, if I saw a pregnant Kylie Jenner at the hospital, I'd probably think the same thing.
But to think Kylie (or any Kardashian, for that matter) would make her hospital visit public is pure nonsense — especially after keeping the pregnancy such a secret.
Aside from the labor rumors, Kylie has dropped a few Easter eggs here and there that were taken as "clues" to her pregnancy. For instance, her Thanksgiving table spread was decked in pink, and fans were convinced she was hinting toward having a girl. Fans were also convinced around Christmas time that Kylie dropped a hint regarding the gender of her baby, because the ornaments on her tree was a dusty pink color. And now we know that those theories were in fact correct, as Kylie gave birth to a baby girl on Feb. 1.
At least we can stop wondering what the gender of Kylie's baby will be (and if she's even pregnant), because guessing was getting really old. Now we only have one question left, and hopefully, it will be answered soon.