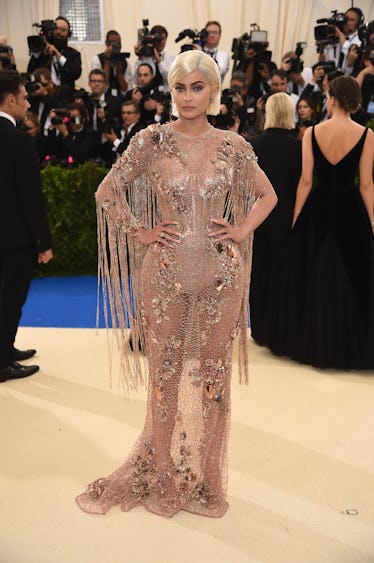 Twitter Thinks Kylie Jenner Is Going Into Labor & Fans Are Losing It
Dimitrios Kambouris/Getty Images Entertainment/Getty Images
THIS IS IT, YOU GUYS. THIS MIGHT JUST BE THE REAL DEAL, and I can't even begin to contain my excitement. What's so exciting? Nothing huge, just the fact that fans think Kylie Jenner is in labor. That's right. This is not a drill. We are finally learning that, after months of not knowing whether or not the Keeping Up With The Kardashians star was expecting with her boyfriend, rapper Travis Scott, that she could reportedly, possibly be in labor! YES! Elite Daily reached out to Kylie Jenner's team for confirmation of the rumors on Twitter, but did not hear back by time of publication.
Update 1: On Sunday, Feb. 4, Kylie Jenner confirmed her pregnancy in an Instagram post. She welcomed a daughter on Thursday, Feb. 1.
Update 2: TMZ has reported that Kylie Jenner did not go into labor on Friday, according to unnamed sources close to Jenner and Travis Scott.
Earlier: After being absent on KUWTK, not being present on any forms of social media, and basically being MIA when it came to any and all gatherings or events last fall, fans started to wonder what was going on. Around the same time, Khloé Kardashian was doing the exact same thing, and many concluded that the reason had to be because the sisters were pregnant. What other reason would they basically each turn into hermits and, if they did post anything, it was only from the chest up? Others thought that people were overreacting, thinking maybe it was all just one big coincidence. That was until Khloé Kardashian officially announced she was pregnant, and then people started really putting the pieces together. Maybe the idea that Kylie is pregnant was not so far off.
Besides, there have been plenty of klues. There was Jenner's Thanksgiving table spread that fans thought hinted at the fact that she was having a girl. There was her gorgeous Christmas tree decked out in pink baubles that also pointed fans in the direction that she's pregnant with a girl. Then, there's Kris Jenner's Instagram post that showed off pajamas for nine kids, when she only currently has six grandchildren. Even her makeup artist, Ariel Tejada, has stopped posting any pictures of Kylie on Instagram, despite the fact that she was all over his feed a few months ago. And who can forget that one time that Kylie didn't even make an appearance on the 25 Days of Kardashian Christmas card? (Not me.) The list goes on and on.
Then, it happened.
On Jan. 12, some people took to Twitter after hearing rumors that Kylie was going into labor. Some are claiming that they have "sources," while others were just freaking the eff out:
Others are like, "OK, if the rumors are true, finding Kris Jenner will lead us to Kylie":
But seriously, that's a good point. Where in the world is Kris Jenner? Because if Kylie is, in fact, in labor, I'm thinking that Kris *may* be there by her side to help her daughter through that whole giving birth thing.
And if what the fans are saying are true, it looks like Jenner has good timing. According to Us Weekly, a source said that Kylie has a complete nursery ready for her little one. The source said,
The nursery is done ... She's a go-getter like her mother. No way she waited long to set that up!
The source then added that Jenner has already baby-proofed her home, adding that "anything sharp has already been taken out."
Completed nursery? Check. Baby-proofed home? Check. Essentially turn into a ghost for months on end, leaving millions of fans wondering about a possible pregnancy? Oh, check, check, check.
So, could it be true? Are we going to see Kylie Jenner and Travis Scott holding a newborn baby, finally confirming what we thought all along?
Looks like we'll just have to wait and see.