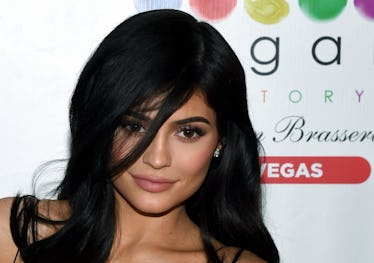 Here's What Kylie Jenner Is Reportedly Doing At Home To Prepare For Her Baby
Ethan Miller/Getty Images Entertainment/Getty Images
OK — so I'm beginning to think Kylie Jenner is never going to confirm she's expecting her first child with rapper Travis Scott and finally put an end to all the is-she-or-isn't-she rumors. But while we've barely seen or heard from the youngest Kar-Jenner sibling since the baby news first broke back in September, that hasn't stopped stories about the reality star from coming in hard and fast. Now we're hearing that the baby prep is supposedly well underway, and that Kylie Jenner's nursery is already decorated — which means it's finally time to start getting excited, dolls!
Of course, neither Jenner nor Scott have confirmed that there's actually a baby on the way. But according to Us Weekly, not only is the design of the child's nursery already complete, but the beauty mogul has also already booked a baby nurse and baby-proofed her house.
"She's a go-getter like her mother," a source told the publication. "No way she waited long to set that up!"
No way, indeed. After all, let's not forget that on a recent episode of Keeping Up With The Kardashians Kim told us that Kylie is now Kris Jenner's favorite daughter. So you can only imagine how much Mama Bear is loving helping her little KyKy prepare for her new babe.
Plus, Kylie is no stranger to the home decor game herself. The Lip Kit queen may only be 20, but she already owns several Southern California real estate properties. And she's not afraid of a little renovation, either. Remember last spring when she gave her glam room a seriously epic revamp?
That huge vanity is goals AF. Kylie also reportedly spent $20,000 for 2 Barbie prints by contemporary artist Beau Dunn to hang in the beauty boudoir.
I'll give you 10-to-1 odds that if she's having a girl, those prints of Miss Plastic Fantastic get moved into the baby's room tout suite! Kylie also reportedly parted with another 10K for a pink neon sign from the same artist — so can you even imagine what she'd be willing to drop on a space designed specifically for her very first child? I mean, rumors were flying during her very first month or two of pregnancy that she'd already dropped $70,000 on baby swag.
Back in October, TMZ divulged that Kylie had spent the small fortune on clothes for her little one.
Here's what they reported at the time:
Sources close to Jenner tell TMZ the mom-to-be has made online baby shopping a habit ... surfing the web for high-end designer clothing and baby accessories. We're told she's already got one huge closet filled and plenty more is on the way.
Is it wrong to be jealous of someone else's unborn baby? Asking for a friend.
Seriously, though — you know how most kids scoff at the idea of being forced to wear their cousin's old hand-me-downs? Well, Kylie probably doesn't even need to spend a dime on her future tot's wardrobe since that kid is gonna get mad designer cast-offs from all of her well-dressed sisters' kids.
There's Kourtney's trio of cuteness: Mason, Penelope, and Reign; plus Kim's two kiddos: North West and Saint. Though, let's be honest, we all know any one of us could probably live off North's sloppy seconds for years without ever repeating an outfit.
From the minute she was born, that child was gifted with Lanvin, Givenchy, Roberto Cavalli, and Hermes. And who could forget Christmas Eve last year when she rolled up to Kris Jenner's annual Christmas Eve party in custom Alexander McQueen?
Those are some pretty big Yeezy-stamped footsteps to follow in right there. Your move, Kylie!