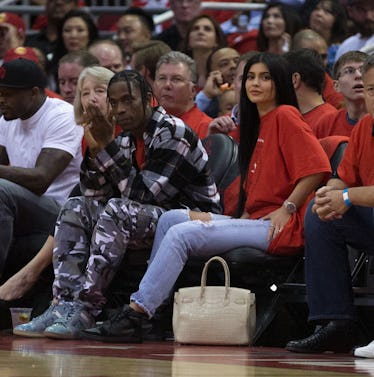 This "Clue" From Travis Scott That Kylie Jenner Is In Labor Isn't What You Think
Bob Levey/Getty Images Sport/Getty Images
After months of carrot dangling in the form of rampant pregnancy rumors and a mysterious disappearance from social media, Twitter had Kylie Jenner fans crying "LABOR!" this afternoon. The internet went absolutely crazy after a clue from Travis Scott that Kylie Jenner's in labor began circulating on Twitter, but hold the phone, because the clue heard 'round the world is just a hoax. The screenshot in question of Scott's Snapchat from a private jet that reads "Make it home to ya one way or another" is from December 2017. Yes, we are all suckers.
Update: TMZ has reported that Kylie Jenner did not go into labor on Friday, according to unnamed sources close to Jenner and Travis Scott.
Earlier: Womp, womp. Let's be real, though: After months of speculation, what else were you expecting? A concrete answer to whether this pregnancy is the real deal or not? Well, a girl can wish. Speaking of expecting, Kylie still has not confirmed her pregnancy with boyfriend, rapper Travis Scott. Despite an Us Weekly article rumoring a nursery, quotes from sources, and Kris Jenner's Instagram post from November 2017 featuring three extra pairs of pajamas, there is no actual confirmation that Kylie is pregnant... yet.
Jenner also disappeared from Keeping Up With The Kardashians this fall, and hasn't made any major public appearances of late, further fueling rumors of a bun in the oven. While the public has generally assumed that Jenner is indeed pregnant, the internet went a step further Friday, Jan. 12, in assuming that Jenner was in labor.
The start of the insanity? Rumors that Kylie was spotted at Cedars-Sinai Medical Center in Los Angeles this afternoon flew across the internet faster than Kylie's lip kits would fly off Sephora's shelves. (Maybe someday?)
Rehashing the past few months of Kylie pregnancy mania feels a bit wild, considering there has never been any confirmation of the pregnancy. However, it seemed increasingly likely that Kylie was indeed pregnant earlier this year, as rumors of sister Khloé Kardashian's pregnancy and her own disappearance from the public eye seemed to suggest that the two sisters were pregnant simultaneously. The sisters' MIA statuses also seemed to suggest that Kris Jenner may have been up to some concealing-of-her-daughters'-pregnancies sorcery in order to captivate the public's attention. (Spoiler alert: It worked.)
But then, Khloé officially announced her pregnancy with Cleveland Cavaliers player Tristan Thompson on Instagram on Dec. 20, 2017. However, Kylie did not follow suit. The youngest of the KUWTK clan has kept the world in the dark. If the 20-year-old really is in labor this afternoon, it will be major news, which is why a whole bunch of people on Twitter flipped out over an old Snapchat clue. (We're only human.)
Whenever the labor actually happens, I do truly wish Jenner an easy labor and a swift recovery, and hope that she is in good spirits. That said, I also wish I knew a lot of other things, including what on earth Kris Jenner will say in the delivery room to help her daughter through labor, whether Kylie is having a C-section or not, what kind of text Kanye is crafting (or not) to send his love, and how much makeup Kylie has on at the hospital. But, uh, also, privacy is important?
As of now, neither Kylie nor any of her family or friends have confirmed that she is in the hospital, though rumors continue to make their way around the internet. Elite Daily reached out to Kylie Jenner's team for confirmation of the rumors on Twitter, but did not hear back by time of publication. As the hysteria continues, it seems like the only option for those of us not working at Cedars-Sinai is to wait and see...