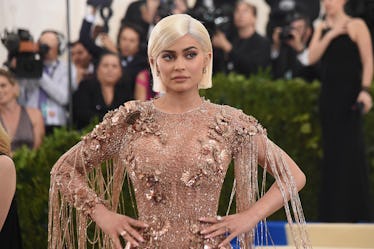 This Tiny Detail On Kylie Jenner's Christmas Tree Could Be A Major Clue She's Pregnant
Nicholas Hunt/Getty Images Entertainment/Getty Images
Do you like Kylie Jenner? Do you like big, beautiful, Christmas trees? If your answer is "no" to either of these questions, then who are you? And how dare you? If you're like me and think both of the above are positively amazing, then have I got a story for you: Kylie Jenner's Christmas tree decorations might hint that she's pregnant, and I promise you that it's actually a pretty big clue and worth your while to read this (and is also your chance to see her 20-foot Christmas tree because holy cow, it's gorgeous).
Update: On Sunday, Feb. 4, Kylie Jenner confirmed her pregnancy in an Instagram post. She welcomed a daughter on Thursday, Feb. 1.
Earlier: Our girl Kylie took to Instagram, posting a picture of her massive Christmas tree located in her even more massive foyer, with a caption that reads:
Thank you @jeffleatham & his team for making my XMAS dreams come true! 20 feet of magic! Even more perfect in real life...
At the end of her caption? A little pink bow emoji.
And people, this tree is not your ordinary Douglas Fir. This Rockefeller-sized tree was decked out in huge pink baubles, and what even seems to look like ~real snow~ and it is the stuff that dreams are made of. But a tree decorated in 20 feet of all-things-pink got fans thinking that maybe, just maybe, Kylie is giving us a little clue about her pregnancy rumors, and that perhaps this is another teaser ultimately showing that she's pregnant with a baby girl.
I mean, look at this tree:
First off, is this not every girl's dream come true? The cotton-candy colored tree, the badass chandelier, the cool pop art hanging on the walls? I could make that single foyer my entire home.
But let's get back to how this could be another hint at Kylie's possible pregnancy. Yes, the tree is all pink, which could mean she is pregnant, and it's another little lady will be welcomed to the Kardashian-Jenner household. Some fans took things a step further. One Instagram user, thenamecaitymillerwastaken, writes:
anyone else check the reflection of the ornaments to see if we could see if she's preggers or is that just me
Another user, jeanadi, pointed out the same thing as well:
Where's the reflection of the photographer??
Damn, these are hardcore fans doing all this work, and they actually have a point: there is NO reflection of Kylie in the ornaments. Does this mean she edited herself out, so as to not give away a growing baby bump?
They honestly might not be wrong!
Remember, the last few months have been quite dizzying trying to keep up with Kylie's pregnancy rumors.
On Thanksgiving, Kylie had an all-pink holiday spread, an even had what looked to be a chocolate-covered rice cake shaped to look like a turkey with a baby bump:
And we can't forget about the time when Kris Kardashian basically confirmed that she has more grandchildren on the way when she posted on Instagram a thoughtful thank-you to Burt's Bees Baby for the arrival of the holiday-inspired pajamas she bought for her grandkids — but instead of six pairs of pajamas, there were nine:
Meaning that Mason, Penelope, Reign, North, Saint and Dream might not be the only babies getting showered with jammies on Christmas morning. Cough, cough, Kim's surrogate baby, Khloé's secret baby, and Kylie's secret baby, cough cough.
I'd also like to point out that, for someone so involved in the social media world, Kylie's posts as of late have been a bit... more covered up than usual.
We're talking about someone who's got a body that's seriously #flawless, and usually, she lets the world know just how amazing her curves are, like these posts from August:
But recently, we're seeing posts that more closely resemble this:
Bit of a difference there if you ask me.
So, is this bubble-gum pink Christmas tree definitive proof that Kylie is pregnant with a baby girl? Of course not. Until we hear confirmation from Kylie herself, the world is just going to keep salivating over any little clue she decides to throw to us. Because let's be honest: we will gladly catch any tidbit she tosses and run with it.