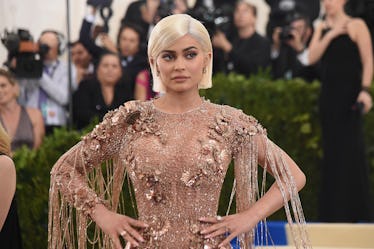 Kylie Jenner Announced Her Baby's Birth With The Most Moving Video
Nicholas Hunt/Getty Images Entertainment/Getty Images
The biggest question has been answered. On Sunday, Feb. 4, Kylie Jenner confirmed on Instagram the birth of her first baby on Feb. 1. She posted the news along with a video, and Kylie Jenner's baby announcement video will give you all the feels.
If you a need a minute to take this all in, I definitely understand. Questions surrounding Kylie Jenner's pregnancy began swirling in September 2017, and after months of questioning and teasing (Kim Kardashian's 25 Days of Christmas), you finally have an answer. The big reveal first came in an Instagram post on Sunday, Feb. 4th afternoon when Jenner shared that she gave birth to a baby girl on Feb. 1.
After Jenner apologized for keeping fans in the dark (which is totally her prerogative, BTW), she shared that she needed time to prepare for motherhood and that the birth of her daughter has her feeling "love and happiness." Once again, as much as fans would like to know what their favorite celebs are up to, people like Jenner are in no way obligated to share that information.
Her fans mustn't worry about being in the dark any longer because Jenner also shared a video titled "To Our Daughter," and it captures some of the most precious moments that Jenner and her boyfriend, Travis Scott, shared throughout her pregnancy.
According to the YouTube video, it was directed by Jenner's friend, Tyler Ross. The video starts out with a scene of Jenner's mom, Kris Jenner, giving birth to Kylie and the happiness that filled the room when Kylie was born. From there, the video is filled with sweet scenes of Jenner and Scott from the early days of their relationship to seeing their baby girl's ultrasound in the doctor's office.
Scattered between the precious moments, Jenner is so relatable as she orders fast food and gives into pregnancy cravings. Fans also get a glimpse into the way Jenner interacted with her family throughout her pregnancy.
There is a clip of a pregnant Kylie having her picture taken by her sister, Kendall Jenner, and the two laugh and enjoy each other's company as Kylie starts her path toward motherhood.
Kylie also had the support of her sisters who are already mothers themselves, Kim and Kourtney Kardashian. The video includes footage from Kylie's baby shower, and the family is all decked out in pink with Kim and her daughter, North, and Kourtney and daughter Penelope in attendance celebrating the pending arrival of Kylie's daughter.
The baby shower was also up to Kylie's design standards, complete with a pink rose flower wall and a decadent chocolate fountain.
Back to the heartwarming moments, though. In the video, Kylie mentioned that her due date was four weeks apart from Kim's surrogate. She also shared footage of her expectant sister, Khloé Kardashian, embracing her as the two experience the road to motherhood together. The two sisters posed with their stomachs touching as they took in the special moment.
As Kylie's due date grew closer, she got a special visit from Kim and her new niece, Chicago West. Kylie's brother Rob Kardashian and his daughter, Dream, were also present to meet Chicago. It seems like Kylie was all about family as she prepared to meet a little one of her own.
The moment got really candid when Kim said to Kylie, in an effort to prepare her in terms of what to expect, "I need to school you on what your vagina's about to feel like." Keep it real, Kim, keep it real.
In the vein of keeping it real, Kylie shared footage from her delivery day. The Kardashian-Jenner crew was in full force, with Kendall joining on FaceTime and Khloe and Kris in the room. To keep some privacy, audio of the delivery was shared with a blacked out screen, but as Kylie's baby girl made her arrival into the world, she shared a glimpse of her new baby girl.
While there's no name or full photo revealed yet, you should definitely be able to get all the Kylie you need when you watch the eleven-minute video. So, ask questions no more and welcome the newest member of the Kardashian-Jenner family!