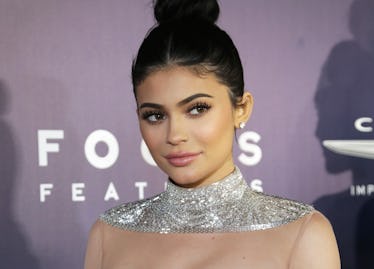 Kylie Jenner Just Gave A Massive Clue About Her Baby's Name With This Snapchat
Kylie Jenner is a mom! The makeup mogul confirmed her pregnancy and the birth of her daughter on Sunday, Feb. 4, in a statement and video that revealed what she's been doing during her social media hiatus, the baby's date and time of birth, and even debuted Chicago West to the world. But one thing she still hasn't revealed is the baby's name. So we're basically in the same place we were before: wondering when the hell Jenner's going to reveal her baby news. But she might've hinted at it last night!! Kylie Jenner's Snapchat clue about her baby's name might've come in the form of a flower arrangement gifted to her by Khloé Kardashian, and fan theories are running amok.
UPDATE: On Tuesday, Feb. 6, Kylie Jenner confirmed she named her baby "Stormi" in a picture shared on Instagram.
EARLIER: Just like when Chicago West was born, people have been flooding Jenner's house with huge flower arrangements congratulating the new parents. Most of the arrangements look like your standard bouquet of flowers (except huge and sent by rich people), but the flowers Khloé Kardashian sent to Kylie Jenner are in a particular shape that are making fans wonder if it's a clue about the baby's name. Yesterday, fans were convinced she's naming the baby Butterfly because of the butterfly necklace featured in the "To Our Daughter" video, Jenner and Scott's matching butterfly tattoos, and Scott's song "Butterfly Effect." Now, thanks to the flowers Kardashian sent, it's possible that guess is wrong and Jenner and Scott chose a name that starts with a the letter C for their baby girl.
Khloé Kardashian sent Kylie Jenner a giant C made out of flowers. Jenner posted a video of the gift on her Snapchat story on Feb. 5.
To be honest, this could stand for anything. Hell, it could be a sideways lowercase R. It could be a sideways lowercase N. It could be just one letter of the baby's name and not just the first initial. As the past nine months have taught us, Kylie Jenner is totally cool with and capable of keeping things secret!
But there's an even stronger theory than the name Butterfly and any name that starts with C: Fans think Kylie Jenner named her baby Posie, short for Mariposa. Mariposa is the Spanish word for butterfly, so this would make sense.
They think Kris Jenner hinted at this in one of her recent Instagram posts, and Kylie Lip Kits are involved.
Kylie Cosmetics has a limited edition lip kit launching Feb. 6 and it's called Posie K. The kit is a trio of colors that come as a gloss, a matte, and a velvet.
The name Posie K is adding flames to the Mariposa name theory because as we said, Posie could be short for Mariposa.
Fans are also thinking the C on Kylie's Snapchat could stand for Chrysalis because the name could double as an ode to Kris Jenner and butterflies.
Jenner and Scott have proven they have a thing for butterflies when it comes to their relationship and their baby, but I really doubt they named her Chrysalis... they literally might as well just name her Cocoon. That ain't happenin'. Personally, I think Posie is a cute as hell name. It's much better than straight-up naming the baby Butterfly. Like, come on, butterflies are cute, but "Butter" and "Fly" aren't the cutest nicknames on the planet. Posie is cute as f*ck, though, so good job on this one, Kylie. While Jenner's family hasn't revealed any name details, they have been posting their congratulations for Jenner.
She posted an adorable baby photo of Kylie and said,
My daughter just had a daughter. It's amazing to be by your side through this journey. She's SO beautiful already. Can't wait to watch her grow. Throwback to my baby, as a baby @kyliejenner
Just about all of her family members have been sending her flowers following the birth of her first child. Jenner posted photos of all the flowers on her Snapchat story on Feb. 5.
Kim and Kanye sent a giant flower arrangement.
Travis Scott got her 443 roses in honor of the time their baby was born (4:43 p.m. on Thursday, Feb. 1).
Kourtney Kardashian sent a huge bouquet of roses as well and included the sweetest note to the baby.
The note said, "My beautiful angel, welcome to the world. You have a lot of cousins waiting to play with you. I love you. Auntie Kourtney." Two of those cousins, by the way, are super close in age to Baby Jenner. Chicago West was born about two weeks before Jenner's baby, and Khloé Kardashian's baby is due in March, so these three are basically set to be best friends for life.
Hopefully we find out Jenner's baby name soon. Keep your eyes on her social media for any more clues!