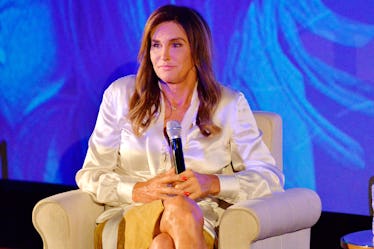 Caitlyn Jenner Finally Responds To Kylie Jenner's Pregnancy & Her Message Is So Sweet
Jerod Harris/Getty Images Entertainment/Getty Images
Well, well, well. What do we have here? It looks like we have Kylie Jenner giving birth, and holy sh*t has it been a long time coming. We've all been processing our own emotions about it and looking to Kardashians for guidance on what to do next since the news was announced on Feb. 4. For starters, Caitlyn Jenner's response to Kylie giving birth is giving me all the feels right now, and it's a perfect circle of parent to child.
It's been months in the making, but it feels like a lifetime ago that we first heard about Kylie's pregnancy. Sources told People magazine that she was expecting her first child with Travis Scott at the beginning of their new but intense relationship. It was the rumor heard around the world.
At the time, we expected confirmation almost immediately. After all, it's not like the Kardashians to let a rumor this huge go unanswered for so long. But, when confirmation never came, and days turned into weeks, weeks turned into months, and months turned into my every waking moment, and we still didn't have a definite yes or no, the masses obviously grew restless.
What ensued was an intense and long journey looking for clues and hints suggesting Kylie might, in fact, have a bun in the oven. Long think-pieces breaking down her every social media post became super common. News outlets would turn to her reported pregnancy when there was nothing else to talk about. My boyfriend and I almost broke up over our differing opinions on what we thought she might name the baby. It's been a whole thing.
Now, it's here. The piece of news we've all been waiting for. When Kylie confirmed her pregnancy by announcing on Feb. 4 that she had given birth to a baby girl on Feb. 1, it was as if our lives were simultaneously both ending and beginning.
On Feb. 5, the day after the announcement, Kylie's father, Caitlyn Jenner, responded with a beautiful Instagram post that threw back to when she had met her youngest daughter for the first time. Jenner posted a picture of Kylie herself as a baby, writing,
My daughter just had a daughter. It's amazing to be by your side through this journey. She's SO beautiful already. Can't wait to watch her grow. Throwback to my baby, as a baby @kyliejenner
The feels.
Now that we know Kylie is for sure a new mom, there is so much OTHER stuff for us to obsess over! What will the nursery look like? What name will she pick? Will she get along with Kim and Kanye's new baby girl? WHAT DOES TYGA HAVE TO SAY ABOUT ALL OF THIS?
Kylie's pregnancy was much more low-key than her famous sister Kim's. For example, when Kim confirmed that she and Kanye West were having a baby girl via surrogate, Kim threw herself a truly wild baby shower. Basically, she made her whole home into a cherry blossom orchard, and heavily documented the whole thing on social media.
For Kylie, not so much. Reports say Kylie had her own baby shower just one day after Kim, and that her event was way more low-key. Apparently, she had the shindig in her own home and made sure it was exclusively kept off of social media. To be honest, I don't know how this girl kept it all a secret, but clearly she has skills we don't know about.
In her Instagram post announcing that she had given birth, she apologized for keeping fans in the dark. She wrote,
I'm sorry for keeping you in the dark through all the assumptions. I understand you're used to me bringing you along on all my journeys. My pregnancy was one I chose not to do in front of the world. I knew for myself I needed to prepare for this role of a lifetime in the most positive, stress free, and healthy way I knew how.
You do you, Kylie. Best of luck in the months (and years) to come, and congratulations to you and Travis.
Check out the entire Gen Why series and other videos on Facebook and the Bustle app across Apple TV, Roku, and Amazon Fire TV.