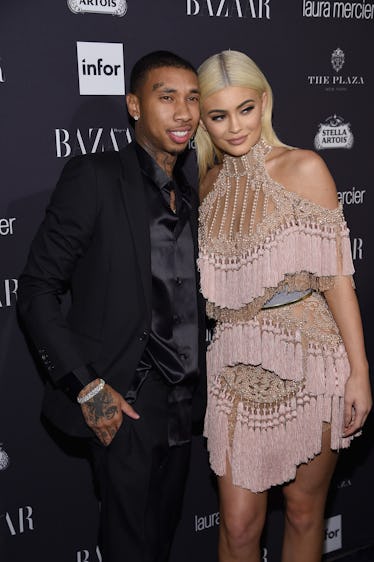 Tyga Breaks Silence On Kylie Jenner's Pregnancy Rumors: "It's All A Fake Story"
Dimitrios Kambouris/Getty Images Entertainment/Getty Images
Tyga is finally speaking out about the reports that Kylie Jenner is pregnant. See how Tyga responds to Kylie Jenner pregnancy rumors... well, more specifically, see his response to the Snapchat pic he posted back when the rumored pregnancy news first broke. It's either completely revealing or just as confusing as ever, I'm not sure which.
At the time, Tyga took to Snapchat to share his thoughts on the rumors, posting a caption with the Kylie pregnancy report headline that said "Hell nah that's my kid."
It was all very confusing and people had a lot to say about it, given that the father is reportedly Travis Scott.
Naturally, Tyga deleted the Snapchat comment, so it was unclear whether he was joking or dropping a truth bomb. It really left people with a lot of questions, all of which went completely unanswered.
Tyga has finally explained the cryptic Snapchat he posted, shutting things down with a bit of the old "fake news" explanation.
Tyga is denying that he claimed he's the dad, telling Metro UK, "I didn't comment on anything, I didn't comment on anything, it was a fake story," saying of the Snapchat post: "It's all a fake story."
Huh? Are you feeling more confused than ever? You're not alone. Is he calling his Snapchat post a "fake story" or is Jenner's reported pregnancy "a fake story"?
Tyga's comments come on the heels of Jenner claiming that the paparazzi photoshopped pictures of her to look like she has a baby bump.
The KUWTK star was recently photographed boarding a private jet with Kourtney Kardashian and Kendall Jenner. The Daily Mail included the photos in a report on Kylie, speculating that her baggy black sweatshirt was concealing a baby bump.
Jenner, who has neither confirmed nor denied the pregnancy reports, fired back at the paparazzi and media with this tweet: "First of all if you're going to photoshop my photos blogs/paps!! Check for the crooked lines in the background. 2nd photo is clearly altered."
The photo has been banned from Twitter, but you can still see the photo here. Note that the Daily Mail stood behind the legitimacy of the pics, saying, "DailyMail.com can confirm the pictures have not been digitally altered."
Nothing seems very clear on any of the pregnancy rumors, and fans have just been flat-out asking for some answers, with one fan tweeting: "So are you or aren't you? Just say something and everyone will leave it be lol."
While we continue to wait for her to say something more definitive, one fan did notice a clue in one of Jenner's Snapchat pics. In a photo captioned "Girls Trip," there were a variety of junk food options she was buying at the grocery store: donuts, Cheetos, Pringles, etc. A fan, who noticed that among the treats was a box of tampons, tweeted: "Hmm whys kylie buying tampons if she's pregnant."
Well, honestly, that doesn't necessarily prove anything since they may have been for another sister or a friend, but it was definitely a good find and a possible clue. Or nothing at all, who knows?
Even momager Kris Jenner is staying totally mum on the pregnancy rumors, despite Ellen DeGeneres' best attempt to get some answers during one of her shows recently.
DeGeneres noted, "You have lots of pregnant children right now. You do. You have a whole bunch of them."
Kris couldn't be fooled so easily, as she responded: "Oh, I can feel where this is going. She's trying to trick me into confirming pregnancies."
Just tell us already!
Check out the entire Gen Why series and other videos on Facebook and the Bustle app across Apple TV, Roku, and Amazon Fire TV.