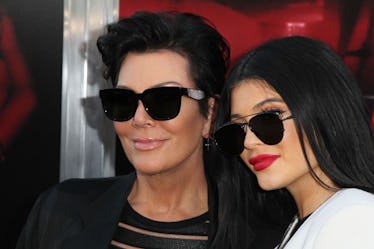 Fans Think Kris Jenner Gave A Major Clue About Kylie Jenner's Baby's Name & It's Wild
David Buchan/Getty Images Entertainment/Getty Images
Now that we finally know Kylie Jenner has already given birth to a healthy baby girl, it's time to shift our focus onto more important things — like, you know, what on earth is the little bambino's name? The lip kit mogul's fans have been searching for clues as they pour over and analyze all of the Kardashian-Jenner family's social media posts. And it looks like they've found a pretty big one, because the Kylie Jenner "Butterfly" baby name theory is currently blowing up on Twitter big time. TBH, not only do I think it makes total sense, but I actually really love it!
UPDATE: On Tuesday, Feb. 6, Kylie Jenner confirmed she named her baby "Stormi" in a picture shared on Instagram.
EARLIER: Fans were quick to notice that in Kylie's adorable pregnancy video — which she released on Feb. 4 along with her baby announcement — not only were there butterflies on the wall of the baby's nursery, but Kylie is also rocking a butterfly necklace that whoever was behind the camera made a point to zoom in on. Then there's the fact that Kylie and Travis got matching butterfly tattoos, Travis has a song called "Butterfly Effect," and a few months back, Kylie posted a pic on Instagram of herself wearing a handful of sparkly pink butterfly rings. So, of course, fans are now shipping the name "Butterfly" as a potential moniker for the baby, and I am totally here for it. It's kind of sweet and different, you know? Although it does seem a little too easy and obvious — after all, you know how much the K-crew loves to keep secrets! — and now there's another theory making the rounds thanks to a cryptic post from none other than Kris Jenner herself.
On Feb. 2 — which we now know was the day after Baby Jenner arrived — the Kar-Jenner family's momager shared an interesting pic on her Instagram feed. Take a look:
"So cute!" Kris wrote in the caption. "One of my favorite @kyliecosmetics shades!! Posie K is launching as a limited edition trio set to celebrate the second anniversary! Feb 5 on KylieCosmetics.com."
Sure, at first glance this may seem like nothing more than a proud mama promo-ing it up for her youngest daughter's new lip kit. But see, here's the thing – could "Posie" actually be Kris Jenner's newest granddaughter's name? Just like Kim is calling Chicago West "Chi," "Posie" could be short for "Mariposa," which is the Spanish word for "butterfly"! I just blew your mind right there, didn't I? Not gonna lie, I'm totally into this theory, too, and it's just SO much more Kardashian than "butterfly," because, hey, why go with the obvious, right? Kylie's fans seem to be digging the whole "Posie" thing, too.
OMG, I would actually be so excited if Kylie called her Mari as a nod to MJ! Still, the name "Butterfly" definitely seems to be the fan front-runner right now, though there are lots of people who think Kylie and Travis plan to go with something that's simply butterfly-related — like Monarch or Chrysalis.
Not gonna lie, I am actually loving all of these options and would be happy with any of them, although knowing the way Kylie operates, I feel like she's going to catch us all off guard by going in a completely different direction with the name. And then she'll make the announcement like, five minutes before the Olympic opening ceremony or something. The new mama did almost overshadow Super Bowl LII by sharing the news of her little girl's birth via an Instagram post just a few hours before the game.
"I'm sorry for keeping you in the dark through all the assumptions," she wrote. "I understand you're used to me bringing you along on all my journeys. My pregnancy was one I chose not to do in front of the world. I knew for myself I needed to prepare for this role of a lifetime in the most positive, stress free, and healthy way I knew how. There was no gotcha moment, no big paid reveal I had planned. I knew my baby would feel every stress and every emotion so I chose to do it this way for my little life and our happiness."
Congrats, girl! Just enjoy every second with your new little babe, and share her name with us in your own due time. Until then, I'll just be over here refreshing.