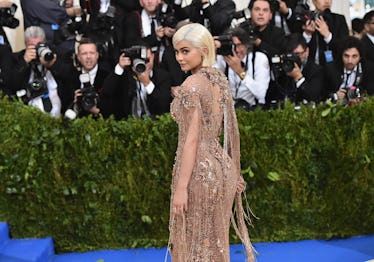 Kylie Jenner Finally Revealed When She Had Her Baby & Fans Are Shocked
Mike Coppola/Getty Images Entertainment/Getty Images
If you're desperately trying to escape the news about Kylie Jenner's reported pregnancy, good luck, because people are freaking the hell out about it. Ever since the rumors first started in September 2017 that she may be pregnant with Travis Scott's baby, the world has been completely enamored with every little detail of the story: her relationship with Scott and whether or not he'll be involved in the baby's life, what the sex of the baby might be, and the obvious one, when Kylie Jenner's due date will be. Then, on Sunday, Feb. 4, it finally happened — she gifted us with the glory that was the announcement that Kylie Jenner had given birth — and basically, all hell broke loose.
Look, the thing is, we honestly can't help but freak out about the confirmation Kylie Jenner was actually pregnant, and is, as of Feb. 1, a new mom. The 20-year-old reality star has basically been ghosting the f*ck out of all of us for months. She's been completely MIA on social media, we haven't seen her on recent episodes of Keeping Up With The Kardashians, and seriously, we've been just very, very suspicious for months. I mean, can you blame us?
When the pregnancy rumors first began in September 2017, a source reportedly told Page Six that Jenner "has been looking pregnant for about four months" now. By those numbers, that would mean the Life of Kylie star would be expected to give birth sometime in February 2018.
And it looks like they were right. In an Instagram post on Feb. 4, Jenner confirmed that she had given birth three days earlier — on Feb. 1, 2018.
In the post, Jenner apologized for keeping fans in the dark about her journey, explaining that she made the personal choice to keep her pregnancy private — that there was no big reveal planned, and that this was something she needed to do for herself. She wrote,
I'm sorry for keeping you in the dark through all the assumptions. I understand you're used to me bringing you along on all my journeys. my pregnancy was one I chose not to do in front of the world. I knew for myself i needed to prepare for this role of a lifetime in the most positive, stress free, and healthy way i knew how.
But for the fans who were heartbroken that they hadn't been able to share the experience with her, there was something to make up for it. Jenner also posted an 11-minute long YouTube video, compiled of home videos interspersed with family and friends talking about Jenner's pregnancy, and finishing with the birth of Jenner's little girl. It was titled, To Our Daughter, and it's honestly just sweet, moving, and perfect.
Fans were freaking out for her.
The announcement followed a whole bunch of speculation about Jenner's due date.
Back on Jan. 12, rumors started circulating that Jenner had gone into labor — it turned out to be a false alarm, but it basically made everyone start wondering when (if ever) our favorite lip kit mogul was going to officially become a mom. In case you were wondering, this is the rando tweet from lord knows who claiming that Kylie Jenner was reportedly in labor at Cedars-Sinai Medical Center in Los Angeles, which caused the massive uproar on Jan. 12:
A lot of people were ready to assume that a completely random text screenshot was correct and that Kylie Jenner did, indeed, go into labor that day.
After the months of speculation, hearing that Jenner has, in fact, been pregnant (as we all knew) feels like an emotional weight off of all our shoulders. Congrats to the happy new parents!