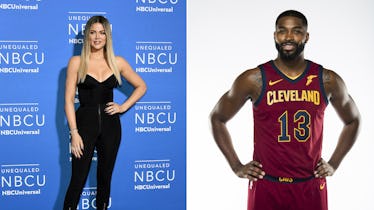 Tristan Thompson Had The Cutest Reaction When Khloé K Told Him They're Having A Girl
Dia Dipasupil/Getty Images Entertainment/Getty Image Jason Miller/Getty Images Sport/Getty Images
First Kim introduced us to her new baby girl, Chicago West. Then came Kylie's announcement that she had given birth on Feb. 1 to a daughter named Stormi. And now, in the season finale of Keeping Up With The Kardashians, we find out that Khloé is also expecting a daughter with boyfriend Tristan Thompson! How amazing is this news? Three little girls growing up together — talk about history repeating itself! And you have to see the video of Tristan Thompson's reaction to Khloé Kardashian having a girl, because it is EVERYTHING.
But before we go there, let's talk about Khloé's reaction for a sec. Because if you watched the episode, then you already know that KoKo was a just little disappointed when she first learned the sex of her baby.
"You're having a girl!" Kylie told Khloé over the phone.
"You're lying!" Khloé responded. "Shut up."
"I'm not lying," Kylie said. "I'm so excited for you, Khloé!"
"I don't feel like I'm having a girl," Khloé said, sounding less than pleased.
Kudos to Kim for then jumping in to console her little sis. "It's OK," she told Khloé. "I cried when I found out North was going to be a girl, too."
"I don't feel like I'm having a girl at all," Khloé replied with a scowl. "I'm like in a state of shock."
Aww. She totally thought she was having a boy, so let's all just give her a minute. But you know who wasn't shocked to find out the baby is a girl? Tristan. And his super sweet reaction when he discovers the news is priceless.
"Oh my God! Ohhhhh!" he yells as he walks into a room filled with pink balloons. "My vision was right. I knew it!"
Love. Him. Watch it all go down at 1:11:
So amazing, right? And over on Twitter, fans were loving every single second.
Even Khloé showed up to chime in:
These two are seriously so adorable, and I am just so happy for them. Khloé first unveiled the news that she was expecting on Instagram back in December with the now infamous black-and-white pic of herself in a Calvin Klein sports bra with Tristan Thompson's hands wrapped around her beautiful growing belly.
"My greatest dream realized!" she captioned the stunning shot. "We are having a baby! I had been waiting and wondering but God had a plan all along. He knew what He was doing. I simply had to trust in Him and be patient. I still at times can't believe that our love created life! Tristan, thank you for loving me the way that you do! Thank you for treating me like a Queen! Thank you for making me feel beautiful at all stages! Tristan, most of all, Thank you for making me a MOMMY!!! You have made this experience even more magical than I could have envisioned!"
New life goal: Find myself a Tristan!
Anyway, since the episode was filmed a while ago, Khloé has since come around to the idea of having a girl, and she shared a couple of tweets in order to explain her initial reaction on the show.
"God gives us what we need!" she wrote in the first one. "His timing is never wrong! My hormones were in rare form for that news."
"Everyone says you feel what you're having and I felt like I was having a boy," she later added. "LOL it's a complete scam that you feel that you're having LOL only God knows what he's doing."
And in a third tweet, you could actually feel the Revenge Body star's growing enthusiasm. "I am now so excited my daughter will have forever best friends with Chicago and Stormi!!" she tweeted.
Pretty cool! But is it weird to be jealous of an unborn baby? Asking for a friend. Anyway. I'm so excited for this next phase of Khloé's life. Congrats, mama!