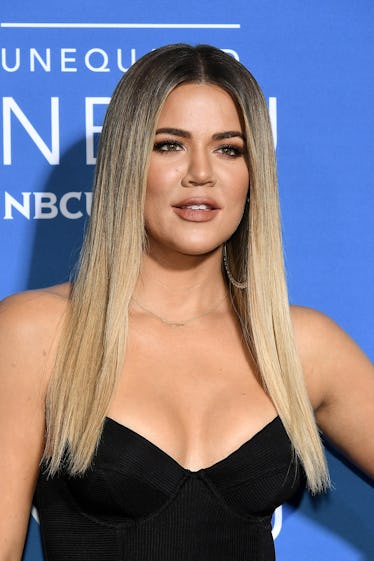 Khloé Kardashian Shared The Sex Of Her Baby On 'KUWTK' & Fans Are So Happy For Her
Dia Dipasupil/Getty Images Entertainment/Getty Images
Khloé Kardashian is the last Kardashian-Jenner sister to give birth, making 2018 the year of the reality baby. Kim welcomed her third child, Chicago, in January. We all met Kylie's first baby, Stormi Webster, in February. Now, we're waiting on Khloé to welcome her little bundle of joy into the world. On the Season 14 finale of Keeping Up With The Kardashians, Khloé gave us more info on her upcoming newborn. Khloé revealed she's having a baby girl and Twitter is lit with excitement.
Khloé first unveiled the news about her new bundle of joy via Instagram on Dec. 20. She shook us all to our core when she posted a black-and-white photo of herself in a Calvin Klein sports bra with Tristan Thompson's hands wrapped around her precious baby bump. The caption of the glamorous photo said,
My greatest dream realized! We are having a baby! I had been waiting and wondering but God had a plan all along. He knew what He was doing. I simply had to trust in Him and be patient. I still at times can't believe that our love created life! Tristan, thank you for loving me the way that you do! Thank you for treating me like a Queen! Thank you for making me feel beautiful at all stages! Tristan, most of all, Thank you for making me a MOMMY!!! You have made this experience even more magical than I could have envisioned! I will never forget how wonderful you've been to me during this time! Thank you for making me so happy my love! Thank you to everyone for the love and positive vibes! I know we've been keeping this quite but we wanted to enjoy this between our family and close friends as long as we could privately. To enjoy our first precious moments just us Thank you all for understanding. I am so thankful, excited, nervous, eager, overjoyed and scared all in one! But it's the best bundle of feelings I've ever felt in my life!
Thompson and Kardashian are due to have their first child together. Rumors about the two dating started swirling in August of 2016, and they have been together ever since. In fact, Khloé divulged that she knew Thompson was "the one" very early on in their relationship.
In a message she penned to readers on her app, Kardashian answered the question "How did you know Tristan was the one?," by saying,
My answer for this probably doesn't apply to everybody, but I knew Tristan was the one very quickly — I have never felt so comfortable or so safe with someone. Because of that, I took it very slowly and was cautious about how I went about 'us.' I made sure we had very in-depth conversations. I wanted to make sure that those conversations were backed up by actions.
She continued,
Tristan was so forthcoming with his life, as I was with mine. It was really reassuring to feel that someone had the same belief systems as I did. We spoke about religion, children and our families. I think all of those things are important to truly know the ins and outs of someone. It's really easy to fall in love with someone during a honeymoon phase when you haven't yet discussed the logistics of life. But you have to talk about the real things if you want a real/long-lasting relationship.
And now, Kardashian and Thompson are adding to their family. When Khloé announced the sex of her baby, Twitter couldn't help but chime in.
Khloé also confirmed the news in a tweet, and shared her excitement:
Here's part of the KUWTK clip:
Congratulations to Khloé, Tristan, and the Kardashian/Thompson families!