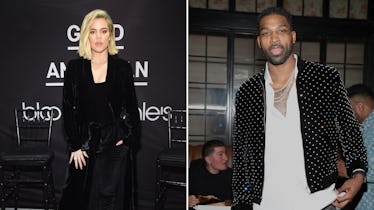 Tristan Thompson Was Reportedly Caught Kissing A Woman Who Is Not Khloé Kardashian
Jamie McCarthy/Cassidy Sparrow/Getty Images Entertainment/Getty Images
Are y'all sitting down? If you're not, I suggest you do, because there are new reports that claim Tristan Thompson reportedly cheated on Khloé Kardashian, and yes, I too am shook. Apparently, there's footage that reportedly shows Thompson — who is about to welcome a daughter into the world with Khloé Kardashian — spotted out in New York last weekend with a woman who is not Khloé (who, by the way, is currently in Cleveland, Ohio, preparing for their baby). Elite Daily has reached out to Kardashian's and Thompson's teams for comment on the claim and the reported video footage, but did not hear back by time of publication.
Here's what reportedly went down: Thompson was in New York City with his teammates (the Cleveland Cavaliers were set to play the New York Knicks on April 9), and were seen out and about Saturday night at a rooftop bar and lounge. The Daily Mail reports that it was there that Thompson was reportedly spotted getting "up close and personal" with an unidentified woman.
The Daily Mail's footage suggests a woman reportedly draping her arm around Thompson's shoulder and speaking closely, then she appears to lean in towards Thompson's hoodie. The report claims the woman is leaning in to "share a kiss" with him, but anyone watching the video won't actually see this due to the camera angle, so it could be Thompson innocently talking to a friend, or it could be doctored footage to look any which way the person who filmed and edited the footage wanted.
According to The Daily Mail, the woman who reportedly filmed the clips that were obtained and published said, "I was there and he was on the table right next to us with a group of friends and some girl who he was obviously making out with all night. They were holding each other and it was so obvious. They were there when I got there and they were part of a big group of friends."
Record scratch. What the what?
If this is true, then this is definitely a big blow to fans of the Kardashians, and perhaps to Khloé Kardashian herself, who has been over-the-moon about her relationship with Thompson. As of right now, it's all merely speculation — there's no confirmation that the person filmed is actually Thompson.
The woman who filmed the ordeal continued, reportedly suggesting, "They were talking and being around each other all night. He was texting and talking on the phone and she was obviously looking over his shoulder. Everybody knew who he was. We talked about it and everybody watched them make out several times."
She also reportedly said that she "knew" it was Thompson because she has "seen him on TV," and claims that Thompson pulled up his hoodie up in a reported attempt to "try to hide."
The woman who took the video added that she is a big fan of the Kardashians and reportedly thinks that the whole thing is "devastating."
But look. While these photos and videos look shady, we have no concrete information, and at this point, it's all merely speculation.
All of this comes at a pretty important time, considering Khloé is just about ready to give birth to a baby girl any day now.
Not only is Khloé quickly approaching her assumed due date, but she also recently shared a message to her fans on April 3, revealing that she was going to be giving birth in Cleveland, Ohio, where Thompson's team is located. On her app, she wrote,
Throughout my pregnancy, I traveled back and forth between L.A. and Cleveland quite a bit, but after a while, it was a little difficult. It was more tiring and my body got swollen, which never used to happen before pregnancy. I obviously love both cities, but I will say I'm happy to be in Cleveland right now.
She continued, writing,
...I'm with Tristan and I get my home time — cooking, being with my love, and just more of a routine. In L.A., I'm SWAMPED with work. But then again, I love being in L.A. because I get to see my sisters and my mom, and I have my trainer and the people that I've grown up with. So there are perks to both cities for me!
Ugh. If this is all true, then it breaks my damn heart.
So, what's going on here? Who can we believe? Is anything sacred anymore? Realllly hoping that we get some answers sometime soon.