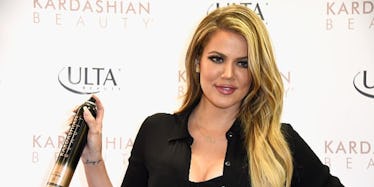 Here's When Khloé Kardashian Is Reportedly Due, Because One Kardashian Baby Isn't Enough — UPDATE
Getty Images/Frazer Harrison
The internet just stopped and broke because multiple Kardashian are spawning. The latest one to be rumored to have a bun in the oven is the last one to not have a baby yet — and reportedly the most recent of the group — Khloé. No really, it's not just Kylie anymore. (And yes, she's a Jenner, but Jenners are also Kardashians by the transitive properties of Kris Jenner's business acumen.) Do try and keep up. Khloé Kardashian is reportedly pregnant with her first kid.
UPDATE: After a fan asked on Twitter how many months along Khloé is in her pregnancy, the star shared that she's nearly six months pregnant. She'll hit the six-month mark next week, around Jan. 1.
That means that Khloé is likely due on or around April 1! It sounds like her baby with Tristan Thompson will likely be a little Aries.
EARLIER: On Dec. 20, Khloé Kardashian confirmed that she is expecting a baby with Tristan Thompson in an Instagram post.
Elite Daily reached out to Khloé's team for confirmation but did not hear back by the time of publication.
Khloé is currently dating basketball player and all around good Canadian soul, Tristan Thompson. Thompson, who is currently playing for the Cleveland Cavaliers along with LeBron James, has only fueled things along by tweeting a whole lot of side eye at these rumors without actually confirming or denying. (But that's the way it works, as you may have noticed with Kylie this past weekend.) Meanwhile, the still-amazingly-popular Keeping Up With The Kardashians, which stars Khloé as part of the now ensemble family cast, recently celebrated 10 years on the air, and starts their new season this Sunday.
How's that for reality television promotion? Donald Trump, eat your heart out.
So let's talk Kardashian pregnancies, since we seem to be in an year of gestation for multiple members. Kim and Kanye are reportedly working on Number 3, but unlike the first two, they're using a surrogate. Kim's first two rounds of making human life from scratch were reportedly utterly terrible to go through, and luckily, our US reality royalty is not required to make every baby with their own body. (Unlike, say Kate Middleton, who also had two terrible pregnancies, and is now undergoing her third as well.)
Then there's Kylie Jenner, the 20 year old modeling wonder, who it is rumored is also pregnant, as of this past weekend. Some have suggested she's actually carrying Kim's baby for her, which would both be a beautiful and selfless gesture from someone who has no history of doing either of those things. No one is confirming or denying (though her ex boyfriend tried to joke it was his before his publicist slapped him and made him delete the post), but if she's telling friends, she's probably about 12-14 weeks along.
And now there's Khloé, the only one of the older Kardashian brood to not have had a baby yet. Much like her sisters, if she's telling people, then she's most likely out of the early pregnancy miscarrying part of the woods and into the 12 weeks and up stage.
But unlike Kylie, who is wearing large tee-shirts and might actually be further along and starting to show, Khloé hasn't put out any appearances where she looks visibly pregnant. So in fact, this may be a slightly earlier announcement that Mama is timing to go with hyping the show's debut as much as humanly possible. Khloé has always seemed like the one most likely to go along to get along in her family, so we can see her allowing this, even if she's not quite out of the danger zone yet.
As for when she'll be due, only her doctors know for sure. But assuming that Kris didn't push her daughter to reveal it early and that Khloé just magically hit the 12 week mark with only days to go before the season premiere, we would be excepting her to be expecting in about six months or so, middle to end of March...
Right in time for March Madness! (Yes Thompson isn't college hoops, but it's still a major basketball month.) Well now, that's just good timing all around now isn't it? If Kylie and Khloé and Kim's surrogate all give birth in March, we can maybe even officially rename it to Kardashian Kraziness. Check out the entire Gen Why series and other videos on Facebook and the Bustle app across Apple TV, Roku, and Amazon Fire TV.