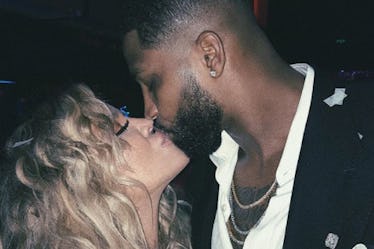 Khloé Kardashian Revealed How She Knew Tristan Thompson Was "The One" & It's So Cute
Instagram/Khloe Kardashian
Isn't it the best to see our main girl Khloé Kardashian finally in the perfect relationship? I'm not even friends with Khloé IRL, and I can see that she and Tristan Thompson are meant to be. Despite all of the reality TV star's romantic ups and serious downs, it's clear she and her beau are the real deal. Khloé Kardashian knew Tristan Thompson was "the one" early on, and hearing her talk about it so seriously so sweet.
Always one to be open and honest with her fans, Kardashian recently penned a message about meeting Thompson on her website and app. In her post, she recalls how Thompson showed his feelings through both words and actions, and that was partly what made her feel safe and confident in their relationship. She also describes how open he is with his personal life, which is something she obviously can relate to and thinks is important. (Reminder: she's been on TV for a long-ass time.)
She also talked about how she and Thompson had difficult conversations about life, probably about things like both of their high-profile careers, demanding schedules, and long distance home bases. (Thompson lives in Cleveland, Ohio, thanks to his position on the NBA team, the Cleveland Cavaliers. Kardashian lives in Los Angeles, obviously, but now splits her time.)
Hear it from her in her own words.
In response to the question "How did you know Tristan was the one?," she wrote,
My answer for this probably doesn't apply to everybody, but I knew Tristan was the one very quickly—I have never felt so comfortable or so safe with someone. Because of that, I took it very slowly and was cautious about how I went about 'us.' I made sure we had very in-depth conversations. I wanted to make sure that those conversations were backed up by actions.
She added,
Tristan was so forthcoming with his life, as I was with mine. It was really reassuring to feel that someone had the same belief systems as I did. We spoke about religion, children and our families. I think all of those things are important to truly know the ins and outs of someone. It's really easy to fall in love with someone during a honeymoon phase when you haven't yet discussed the logistics of life. But you have to talk about the real things if you want a real/long-lasting relationship.
Now, Kardashian and Thompson are expecting their first child together. Though the public first heard rumors about Kardashian's pregnancy as early as September 2017, it wasn't confirmed until December when she released a touching post on Instagram.
Later, fans would see her tell her whole family on Keeping Up With The Kardashians. Somehow, she and Thompson were able to keep it a secret from everyone, including Kris Jenner, which is really saying something.
If anyone had any doubts about this relationship, it's clear these two are in it for the actual long haul. In fact, Kardashian even admitted Thompson suspected she was pregnant before she even knew for sure. She told Jimmy Kimmel,
Tristan kept saying: 'You're pregnant,' because I was nauseous and not feeling well. But then he had to leave the country and I took a pregnancy test. I was screaming, it was so surreal.
We don't know if they're having a boy or girl yet, but we know that baby will be so, so loved. Kardashian revealed the baby will likely be named after her or Thompson. She said,
I think if it's a boy I'll go with Tristan Junior. For a girl I don't even know where to begin. I think I'll go with a K or a T name though.
I die.
K and T, we love to love you two.
Check out the entire Gen Why series and other videos on Facebook and the Bustle app across Apple TV, Roku, and Amazon Fire TV.